Uncle Maddio's Pizza Joint is aiming to open restaurants in Lafayette, Baton Rouge, New Orleans, Tennessee, and Mississippi. No location or timeframe has been set, yet, but I am told that it is happening. The fast-casual pizza scene must be exploding in popularity because this will be the third of its kind in Lafayette. The concept is comparable to Izzo's and Chipotle, but with pizza. Names like Pizza Artista, which is open on Johnston and Blaze Pizza, which is planned for the Costco development are already in the game. They all promise fast, fresh pizza at a price that doesn't hurt and I am all about that, can I get an amen!
Check out the press release that was so kindly provide to me by Tiffany, The Lafayette Food Junkie.
Photos courtesy of Tripadvisor.com & Uncle Maddio's Pizza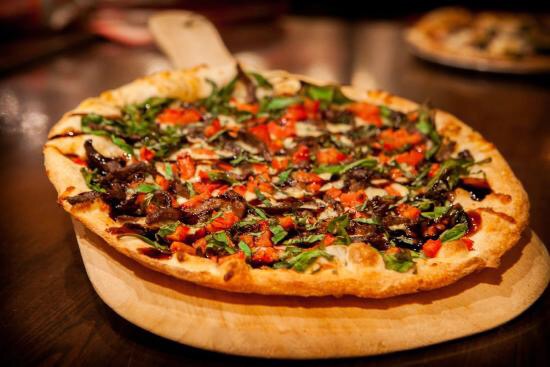 America's favorite food (93 % of Americans eat pizza at least once per month) is getting healthier, faster and cheaper thanks to the fast casual pizza segment which is the fastest growing segment of the almost $700 Billion restaurant market.

Prior to the fast casual pizza restaurants, eating pizza took too much time. You couldn't have it for lunch because it took 30 minutes to order and cook and you couldn't satisfy everyone because everybody wanted something different on their pizza.

The dining dilemma will be solved at least in Memphis, North Mississippi and parts of Louisiana with Uncle Maddio's Pizza Joint, where guests will order their own personalized pizza from a chef's special or create your own; watch it being cooked; get a drink and sit down and a server brings it to your table in less than 10 minutes.

Uncle Maddio's will be expanding with 13 units in the Memphis, North Mississippi and New Orleans, Baton Rouge and Layfayette, La areas. This expansion is Uncle Maddio's largest to date with experienced multi-brand restaurant owner and Chef Seth Hargett. Please let me know your questions and if you would like to speak with Seth or Matt Andrew, CEO of Uncle Maddio's. Thank you.

Ellen Hartman 770 355 8855

Uncle Maddio's Signs Largest Multi-Unit Deal To Date

JUMP Restaurant Management, subsidiary of Jubilee Restaurant Group,

To open 13 units in Tennessee, Mississippi and Louisiana

(ATLANTA) March 2015 – Fast-casual pizza pioneer Uncle Maddio's Pizza Joint announced today the signing of its largest franchise deal to date. JUMP Restaurant Management, a subsidiary of Jubilee Restaurant Group, will develop 13 Uncle Maddio's across the Mid-South. Communities in New Orleans, Baton Rouge, Lafayette, La.; Greater Memphis, Tenn. and Southaven and Olive Branch, Miss. will soon be able to enjoy Uncle Maddio's premium, customized pizza experience.

"We researched the fast-casual pizza segment for two-and-a-half years before choosing Uncle Maddio's," said Seth Hargett, founder and president of Jubilee Restaurant Group. "We liked that the leadership team is made up of former operators who understand what it takes to run a successful restaurant. And as a former chef, I was blown away by the flavor, freshness, taste and variety of the menu. There's nothing like it on the market."

Hargett himself is a veteran restaurateur. Prior to moving into development and operations with Jubilee, he honed his culinary skills cooking in the kitchens of the Brennan family, Emeril Lagasse and Gerard Maras before moving on to the head chef role at Grand Hotel Marriott Resort, Golf Club & Spa in Pt. Clear, AL, an AAA 4 diamond resort.

Jubilee Restaurant Group operates 10 Five Guys Hamburgers and Fries with development rights to 14 more in five states. Investors in the JUMP/Uncle Maddio's deal also include a former Five Guys Vice President of Franchise Development Greg DeCelle.

"We could not ask for a better partner than Seth and Jubilee as we grow Uncle Maddio's across the country," said Matt Andrew, CEO and founder of Uncle Maddio's Pizza Joint. "We share a common belief that you can deliver a first-class dining experience at an affordable price. Guests at their 13 upcoming restaurants are guaranteed to be served with love."

Since launching its aggressive growth plan in 2008, Uncle Maddio's has signed franchise agreements with 55 different entities in 18 states. Many of Uncle Maddio's franchisees have previous multi-unit experience with Jimmy John's, Firehouse Subs, Dairy Queen, McDonalds, Burger King, Krystal, Papa John's, Domino's, Golden Corral and Five Guys. Uncle Maddio's is on track to have 300 restaurants open in five years with 1,000 units in development and is opening units every 10 days.

Uncle Maddio's offers premium ingredients and more customization than any other fast-casual pizza chain. Guests choose from one of three crusts, including a gluten-free option, and 48 toppings including six sauces, 27 vegetables and 15 meats. More than 30 menu items are made fresh daily in-house. For those with dietary restrictions, Uncle Maddio's serves up a huge selection of healthful options such as whole wheat and gluten-free crusts, hormone-free chicken, fresh local vegetables, Daiya vegan cheese and organic greens. Create-your-own signature salads and toasted Panini sandwiches round out the Italian-style menu. The restaurant also offers a selection of craft beers and wine.

For more information on Uncle Maddio's Pizza Joint, visit www.unclemaddios.com. Interested franchisees can visitwww.unclemaddios.com/franchise-info/ or contact Roger Wagerman at roger@unclemaddios.com.

###

About Uncle Maddio's Pizza Joint. With more than 1,000 Pizza Makers making more than 2,000,000 gourmet pizzas a year, Uncle Maddio's Pizza Joint is category leader of the create-your-own premium fast casual pizza restaurants. Operating 32 locations in 14 states, Uncle Maddio's opened 10 restaurants in 2014 and earned a 300 percent growth rate over the last three years. With more than 240 units in development, Uncle Maddio's is projected to double in size in 2015. Uncle Maddio's pizzas are customizable, made-to-order, and served up fast for under $7. With four pizza sizes; three types of crusts, including gluten-free; six sauces and 48 fresh toppings, many vegan, organic, and hormone-free, Uncle Maddio's has the freshest and largest menu in the category. The restaurant's unique fast bake ovens offer the most throughput in the industry and can produce 200 pizzas per hour. Uncle Maddio's also serves toasted Paninis and gourmet salads – all prepared with locally sourced ingredients (when available) and salad dressings and 30 other menu items that are made on-site daily. Uncle Maddio's 'Served with Love' philosophy and restaurant is for everyone -children and families, college students, the young and the young at heart – and serves the guests and communities it is a part of. Based in Atlanta, the Uncle Maddio's management team has 50 years combined experienced in the fast casual category. Markets are available nationwide for franchise partner development including Texas, Ohio, and New Jersey.