Brick & Spoon, a brunch-style restaurant, recently relocated from the Pinhook/Kaliste Saloom area to their newly constructed space at 3822 Ambassador Caffery.
We first announced that Brick & Spoon would be relocating to Ambassador from Pinhook back in November of 2019; taking a portion of the former Posados Mexican Restaurant space.
Fast forward a bit, a lot has happened since that first relocation announcement, but we are finally able to share with you all that Brick & Spoon is now open. They've been open for a couple of weeks or so now, but we've had a couple of hurricanes mixed in there so it wasn't easy to get in to get photos. But now we have them!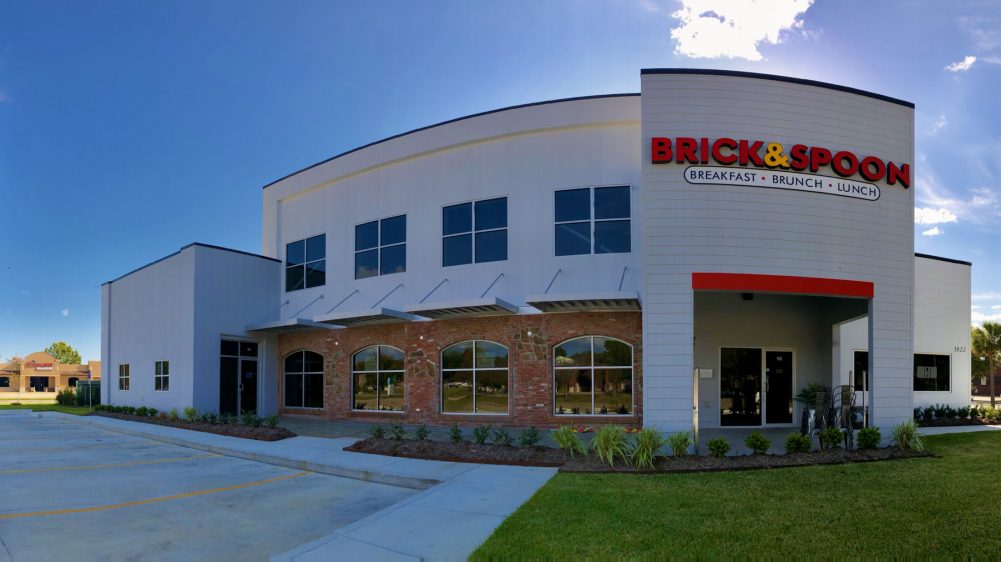 We have several photos to share so we will keep this short but, there are a couple of unique features of the restaurant. Since the restaurant was constructed with the former Posados, they've kept a lot of the former exterior brickwork from the patio. The original bricks hold a lot of written history as many Posados guests have left their names on the bricks. And instead of washing the bricks, the owners of Brick & Spoon felt that it was a perfect addition to the interior aesthetic. You can see some of those written bricks in the photos below.
Lastly, the restaurant is as quirky as the owner, Connie Soileau. In making this newly constructed space, she made sure to add her sense of humor and personality into the design of both the menu and the interior. If you happen to need the restroom, you'll need to find the doors labeled "Eggs" or "Sausages". Hopefully, we do not need to explain what that means. Haha. But seriously, Brick & Spoon is a fun, unique restaurant that was founded in Lafayette and is owned by locals. Check the out video tour and photos below, then go visit the restaurant yourself. 🙂
Follow Brick & Spoon Lafayette on Facebook at https://www.facebook.com/brickandspoonrestaurant/. Also, they are a Toys For Tots donation destination! Each eligible donation will be put into a drawing for a hurricane survival kit worth about $5000. The kit includes a portable generator, window AC unit, power cords, electrician labor (if needed), and a list of other products to help with any storm preparation.