The newest Fat Pat's restaurant & bar, located 1137 S Bernard Road & Ambassador, is in full construction mode. In this post, you'll see progress & groundbreaking photos as well as a short video highlighting the construction and what is to come with this new Fat Pat's location. (See original post here).
The Fat Pat's brand was founded in 2007 by local brothers, Aaron & Adam Dulin. The concept is family-friendly and offers a menu that many Acadiana area locals can not resist. If you have not had one of their burgers, then you owe it to yourself to try one.
The new Broussard location of Fat Pat's will offer its guests an elevated, interactive experience that goes beyond just coming in to eat. The floor plan is compartmented into three areas. The first area is the semi-outdoor space featuring large roll-up doors, high ceilings, turf, and dining tables surrounding different fun games. The second space, which is separated by glass for climate control, is the main dining room and bar area. Guests will have access to the bar without having to enter the main dining room from the turf space. The third space is a family zone that features a gaming room for kids and parents to enjoy while spending time with each other apart from the hustle & bustle of the higher traffic spaces. The entire space will be filled with over 70 large TVs and other audio & video technology for when the best seat in the house matters most—every seat in this house is the best seat.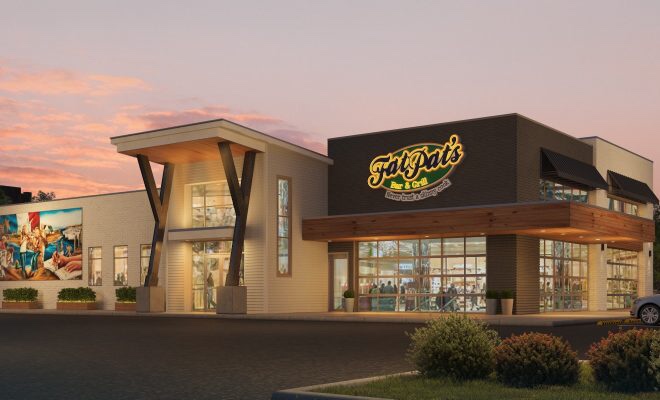 "Chris and I are very excited to have the opportunity to help build on the success of the Fat Pats brand. We are consistently looking for areas that could benefit from having this new standalone design." — Fat Pat's franchisee owners, Jessie Fontenot & Chris Sogga.
"Plans are also underway to break ground in Breaux Bridge, as well as finding other locations in markets such as Baton Rouge and Lake Charles."
"Fat Pat's is a fantastic family-oriented sports bar and grill. Our goal is to be able to provide our customers with several locations to enjoy its great food, service, and ice-cold beer."
Randy McCarthy with Point Group Development assisted the Fat Pat's team in selecting the prime property for their new stand-alone restaurant.
Tentative completion date for Fat Pat's Broussard is set for Fall 2020.