You may have heard that the Heymann Performing Arts Center may soon cease to exist and that new locations for Lafayette's Performing Arts Center are being considered. One of the considered locations is along the Congress Street corridor in the Downtown district of Lafayette, and it would completely change everything. The other location being discussed is along the Cajundome Blvd corridor, which would not have as large of an impact, according to a recent redevelopment site study.
Link to redevelopment site study pdf: https://downtownlafayette.org/wp-content/uploads/DDA_PAC-Redevelopment-Study-111022.pdf
Below is a comparison of the number of existing hospitality businesses within walking distance of potential performing arts center sites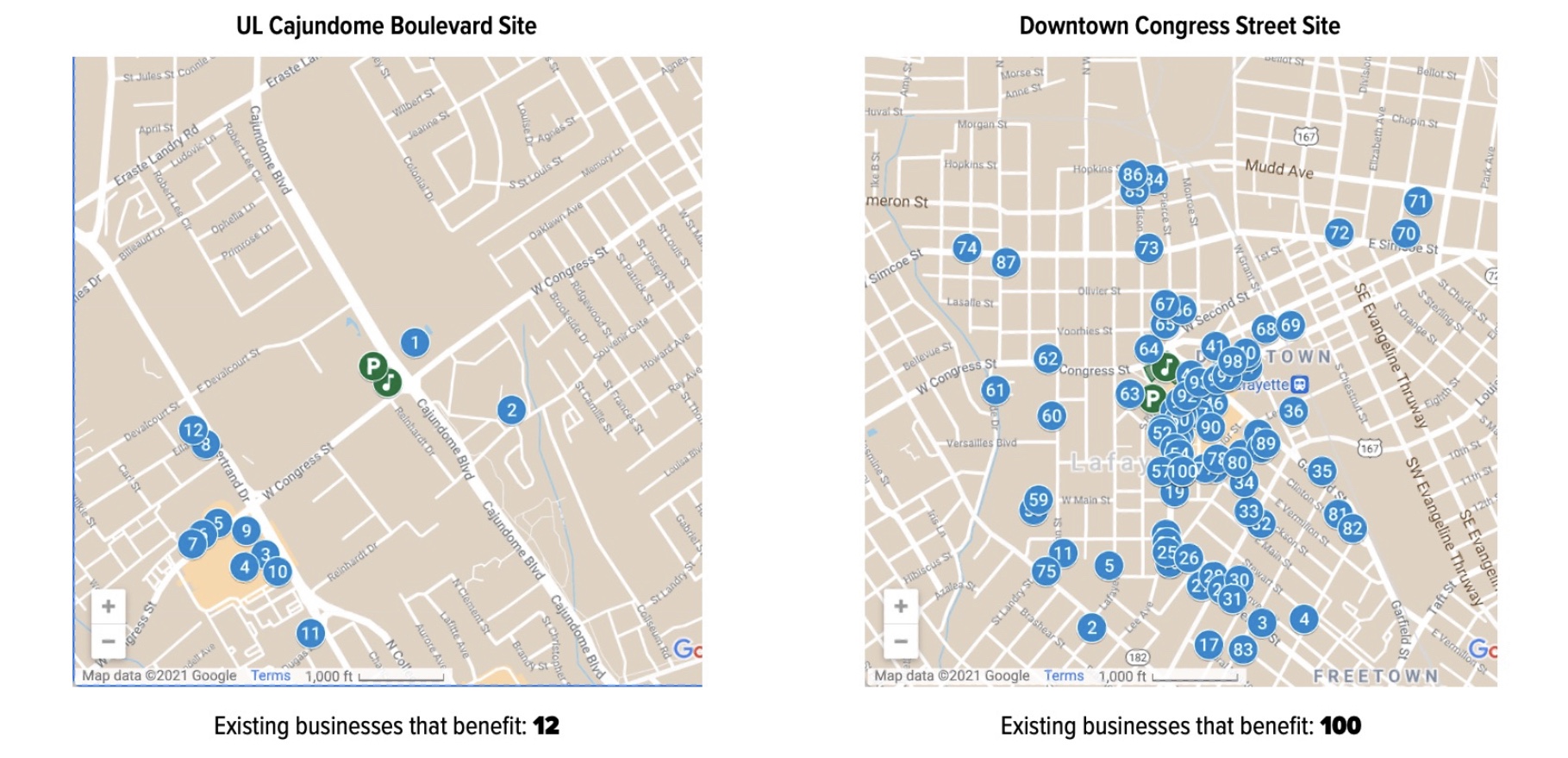 Green dots indicate performing arts center and parking. Blue dots indicate all existing entertainment, hospitality, and retail businesses within a half-mile radius.
The concept plan, which was commissioned by the Downtown Development Authority earlier this year, illustrates how a new 2,200-seat performing arts center could be situated along Congress Street adjacent to the First Horizon tower. The plan would be transformational, adding more than 750 structured parking spaces, additional restaurants, and retail structures, as well as accommodating a new outdoor performance area.
Hypothetically, let's just say that the Performing Arts Center is to be constructed in the proposed downtown Congress Street location. It would completely reshape Congress Street along with W 2nd Street & W 3rd Street; paving the way for increased private investment, more walkable shopping & dining, and a view that would rival that of other similarly sized city's vistas along a major thoroughfare.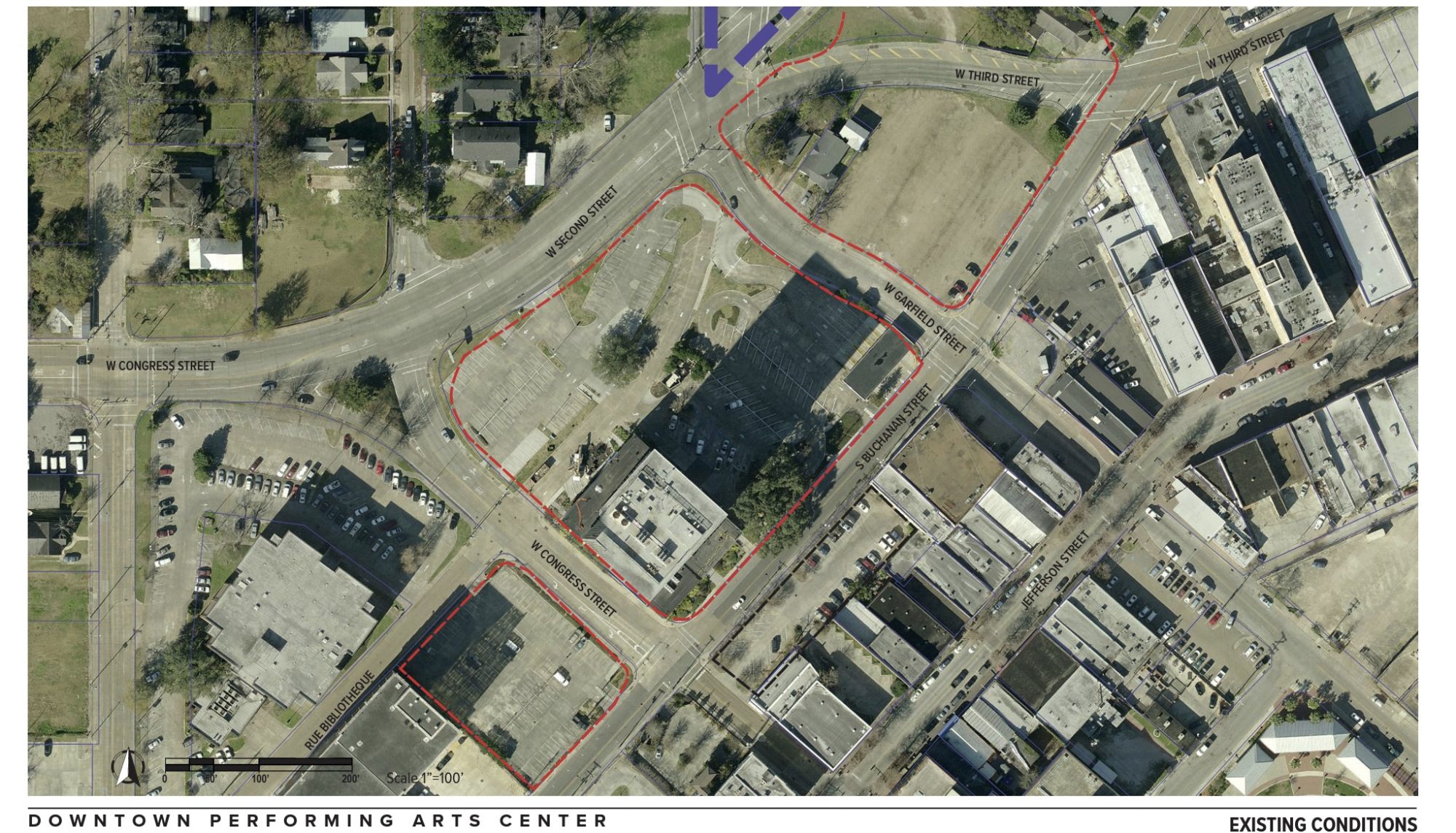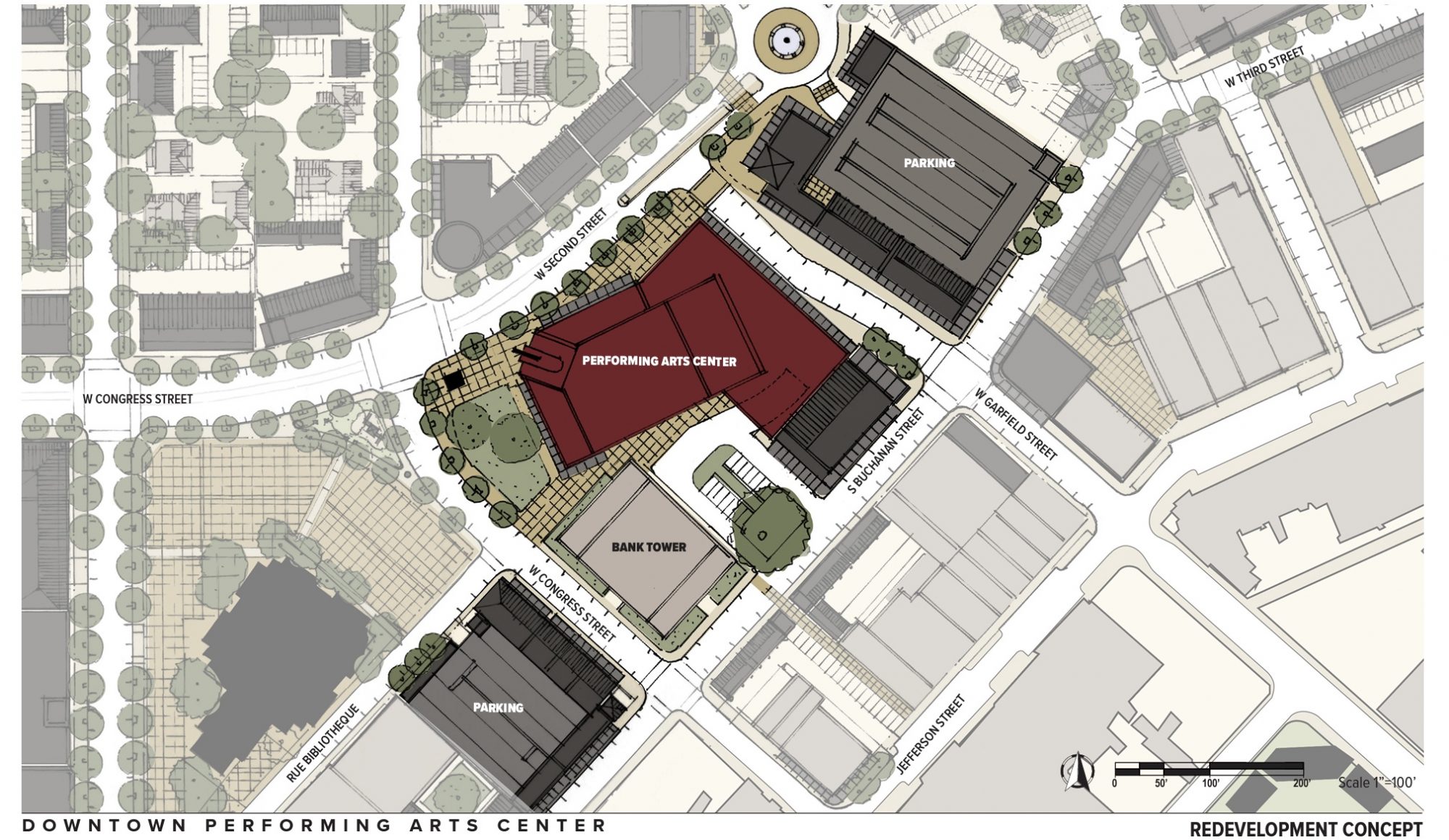 The site, located only one block from Jefferson Street is one of many similarly sized pieces of land downtown that could serve as the site of a new performing arts center. The site study was commissioned to show just one example of how a downtown performing arts center would function, Downtown Development Authority CEO Anita Begnaud said.
If Lafayette is to grow as many other comparable cities with great city centers have grown, putting such a magnet for the arts in a district that's culturally centered around art only makes sense.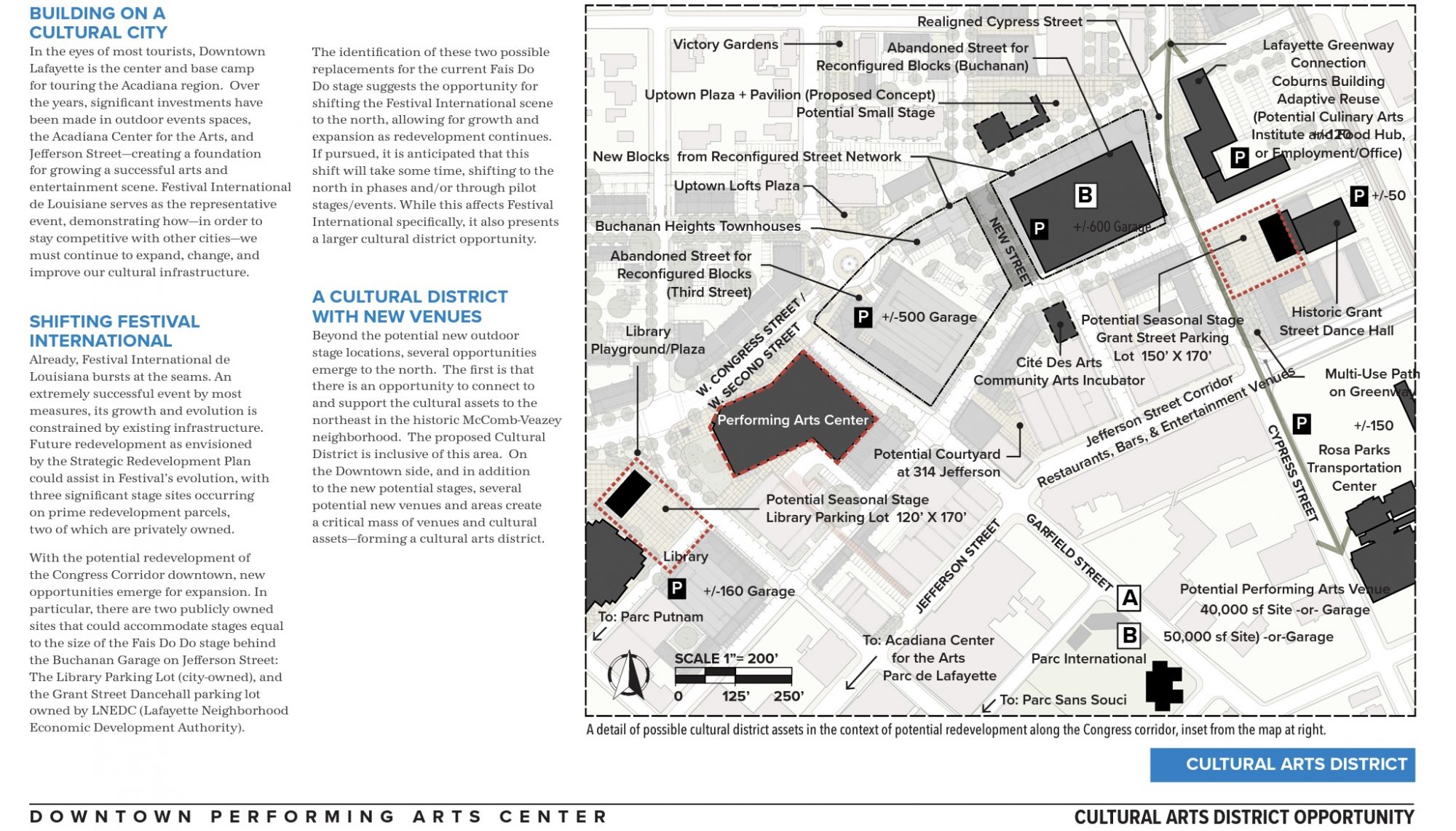 Lafayette Consolidated Government(LCG) has already budgeted funding for structured parking downtown. And the addition of parking in the area presents several opportunities for private investors to build businesses that would complement a performing arts center, like restaurants, hotels, and retail.
"Not only could a performing arts center 'fit' downtown, we believe that a downtown location provides the highest return on investment from the public's perspective," Begnaud said.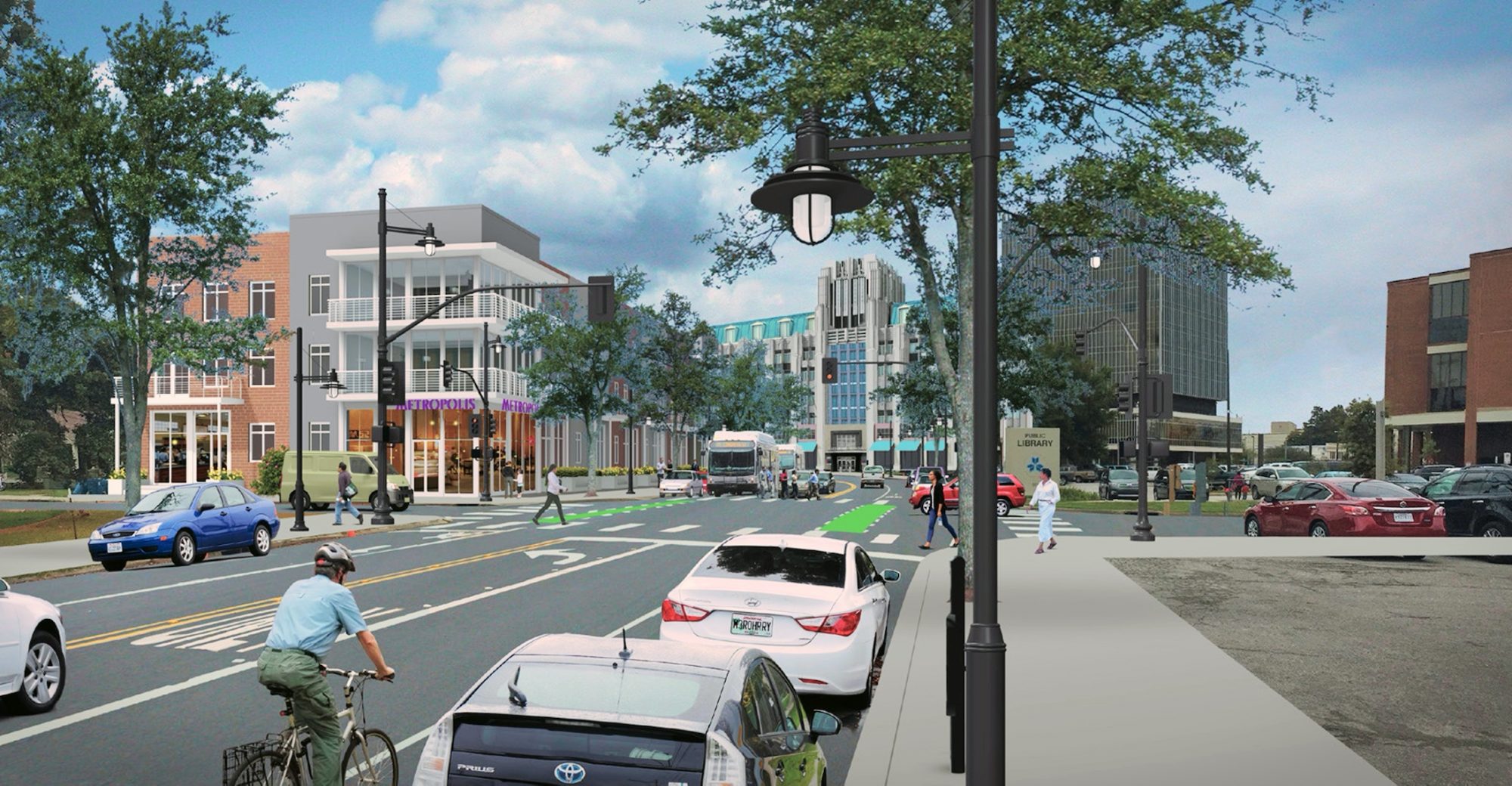 "Starting on day one, visitors to a downtown performing arts center could find walkable shopping, restaurants, bars, and more than 100 other entertainment and hospitality-related businesses that already exist within a short five-minute walk," Begnaud said. "An entertainment venue like a performing arts center is only truly successful as part of an overall quality experience for visitors. This is why the national trend over the last several decades has been to locate performing arts centers in downtowns."
Asheville, Greenville, Pensacola, and Greensboro are just a few examples of successful downtown performing arts centers that were designed to be catalysts for downtown revitalization and are key contributors to thriving urban centers.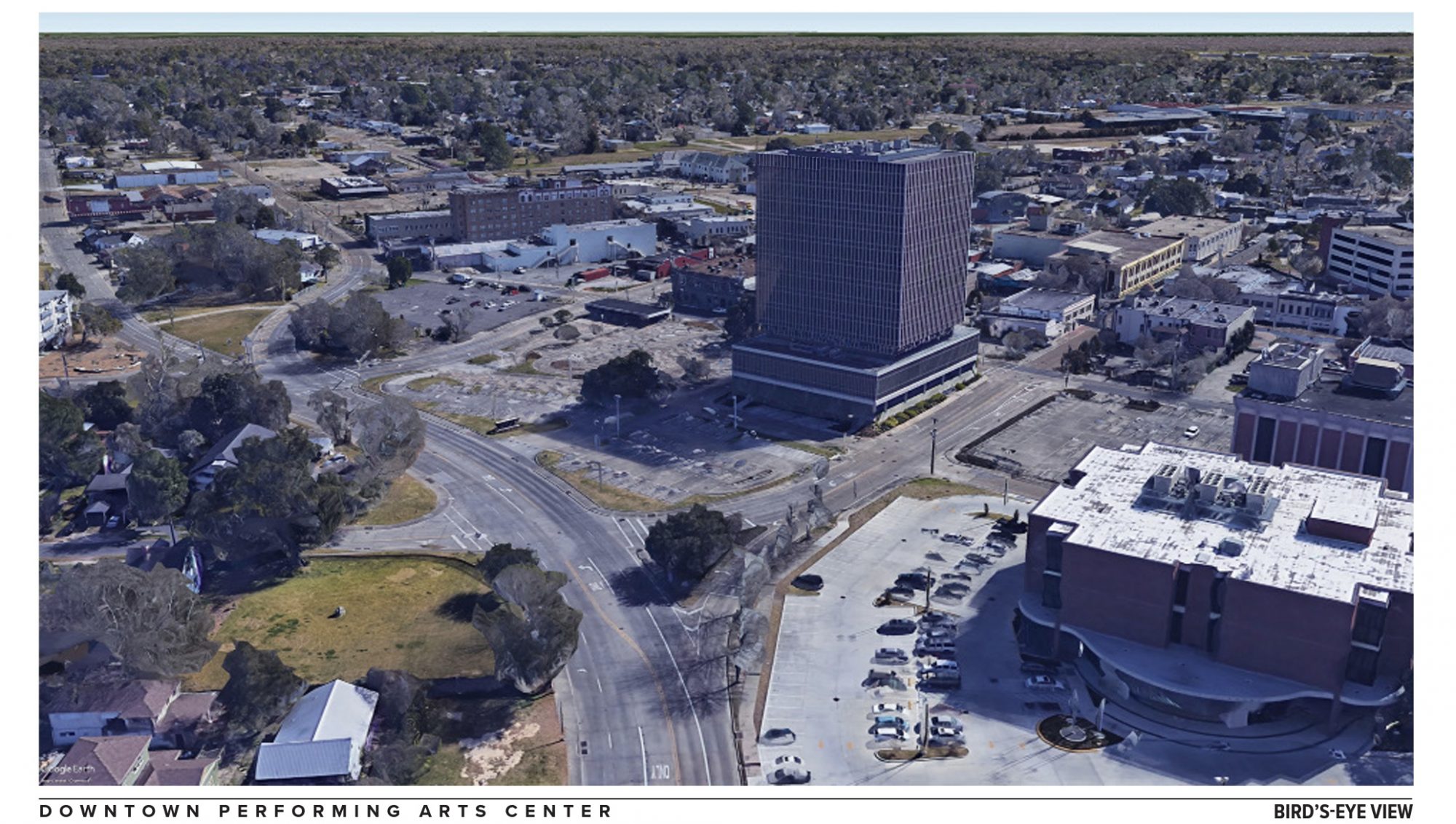 The DLU was one of several organizations that last week co-signed a letter to the Lafayette City Council supporting the creation of a public process to choose a site for a new performing arts center that would take into account the potential economic impact and overall community benefit.
"As we continue conversations about the largest public investments we have ever made as a community, I believe we need to engage the broader public in a meaningful way," Begnaud said. "The hundreds of downtown business owners, entrepreneurs, and residential and commercial property owners all deserve an opportunity to make the case that a downtown location would deliver the best visitor experience and the highest return on investment."
Below are progression renderings of what the Congress Street corridor could become if Downtown Lafayette becomes the Performing Arts Center host district.