January 2023 UPDATE: Dave & Buster's of Lafayette is official!
According to a local newspaper, Dave & Buster's finally closed on a 5-acre property at 201 Spring Farm Road in the Phase 2 development of Ambassador Town Center at Kaliste Saloom Road & Ambassador Caffery.
Below is the post dated June 2022. It still contains relevant information:
Alright, guys, I know what you're going to say… "Is this another mean April fool's joke?" Well, it's not!
Dave & Buster's has filed a legit permit to build a new 22,213-square-foot facility at 201 Spring Farm Road in the Phase 2 portion of Ambassador Town Center aka The Costco Development.
This area of Lafayette has the highest per-square-acre price than any other area in the parish, perhaps in Acadiana, at around $1 million/acre.
Founded in 1982, the large entertainment company is known for its over-the-top restaurant/arcade concept featuring hundreds of games and a wide variety of food & drinks. Most of you guys already know what Dave & Buster's is, so we don't need to really do that, right?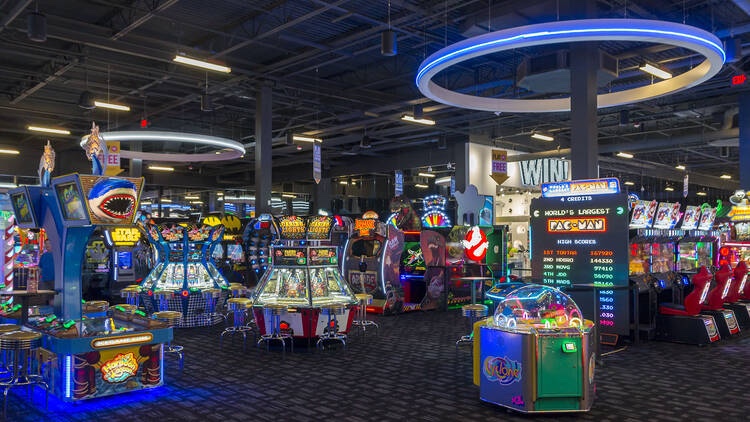 Image sourced: timeout.com.
Let's just talk about the fact that this company was once considered unreachable for Lafayette due to their requirements for a large population within a short distance, which is why New Orlean's has one. But let's be honest here, have many of us South Louisiana folks been to the NOLA location? Probably not. One big reason is that it's in New Orleans… it's not exactly approachable for out-of-towners to visit. So that leaves Baton Rouge, Shreveport, Metairie, and Lafayette as the cities in Louisiana with a population of over 100k people within its city limits, along with NOLA. They could have very well chosen to build in Baton Rouge, but we are going to let our Lafayette area bias show hard and say that we are the best option for Dave & Buster's because of our geographical location with two large intersecting highways, a growing population, and a relatively underserved family entertainment market. And besides, we know that out lying Acadiana residents would much rather come to Lafayette than to go into NOLA where parking is a pain, and crime is out of control but, we digress. The point is that Lafayette has become an obvious attractive location for many of our favorite brands to expand.
No tentative dates have been determined but, permits have a 6-month act timeframe, which means we could soon see dirt work on the property.
To learn more about Dave & Buster's, see their website at https://www.daveandbusters.com.