A new neighborhood eatery & drinkery, called Mercy Kitchen, is coming soon to the former Bon Temps Grill space at 1312 Verot School Road.
Mercy Kitchen is a concept birthed during the pandemic to provide an escape from life's seemingly never-ending madness. They have set out to create a vibe similar to your "cultured" friend's kitchen where you can enjoy hand-muddled cocktails, curated wine & champagne, and a modern take on American food sourced from locally grown ingredients.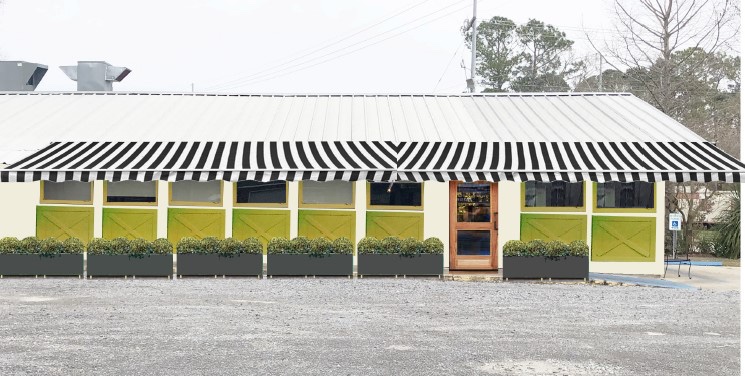 "Beyond menu price and design, approachability also spills over into ambiance and decor. We wanted to create a place where people can hang out and feel comfortable – a place where they want to stick around," says owner Stuart Ottinger.
The concept is "elevated casual" and so is the menu which includes shareables, unique salads with scratch dressings, delicious gourmet sandwiches with homemade aioli and kale chips, killer cocktails, a variety of beers or splurge on worldly wines and champagnes from their thoughtfully curated list by the glass.

The atmosphere is being meticulously re-designed by Kelly Sutton Design. Kelly Sutton, a Lafayette native, whose interior design work has been featured in the Four Season's Hotel, Effervescent in New Orleans, projects in Los Angeles, New York, Hong Kong, and HGTV created interiors that are reminiscent of a hip metro neighborhood that is not only cool but most importantly approachable.
Adding to the cool vibe of Mercy Kitchen, Artist Ellen Macomber, was enlisted to work her artistic vision on the establishment. Known for her wild, wanderlust creativity and art, Macomber, whose work includes Justine's Restaurant in New Orleans, was given a vintage 1950's truck to trick out and this will be used to serve guests outdoors, while her custom neons and other art are showcased inside.
"Our people are the most important part of our vision. If you are interested in being a part of Mercy Kitchen's team, we want to hear from you. We invest in the development and training of our people to ensure the stellar guest experience we envision."
The tentative opening date is set for August 2021.
If you're interested in working for Mercy Kitchen, you can slide into their DMs on insta https://instagram.com/mercykitchenlft.
Click here If you're looking for information on Bon Temps Grill and where they have relocated.
Become a supporter of developing lafayette. Become a DL Insider