Lafayette's former Toys R Us space, located at 5700 Johnston Street, will soon see all new life months after the popular toy store closed their doors nationwide.
Taking the former Toys R Us space in Lafayette is an expanding company called, Ollie's Bargain Outlet.
Ollie's Bargain Outlet started in started in Mechanicsburg, Pennsylvania in 1982 and they are one of America's largest retailers of closeout merchandise and excess inventory. Their company is comprised of 280+ "semi-lovely" stores—as they say on their website—each of which sells merchandise of all descriptions with some going beyond description. Whatever that means. Get this, Ollie's Bargain Outlet is moving into other vacant Toys R Us spaces around the country in an effort to gain prime retail space. And yes, they will be selling tons of toys, too.
The company bases their product selection around their tagline which reads, "Good Stuff Cheap". Products are sourced from closeouts, overstocks, package changes, manufacturer refurbished goods, and irregulars for which they resell. Ollie's assures their customers that they sell real brands at real bargain prices.
According to public record, internal demolition should begin soon at the 5700 Johnston location, formerly Toy R Us, to make way for Ollie's Bargain Outlet. A sign will also be installed onto the building shortly after the ghost of Toys R Us' logo is pressure washed away.

A Black & White mock-up of Ollie's sign on the former Toys R Us building.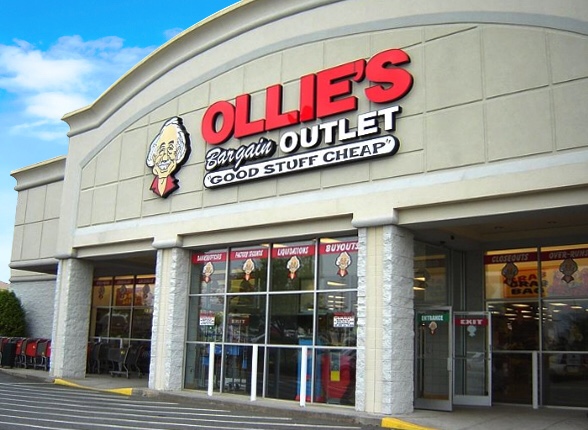 Ollie's Bargain Outlet Store Front, Courtesy of in-rel.com.