A new seafood & fried chicken joint, called Golden Hooks Seafood & Fried Chicken, is coming soon to the former Church's Chicken location at 212 SE Evangeline Thruway.
As many of the formerly occupied Evangeline Thruway businesses are being demolished, it is interesting to see locations such as this get scooped up to become new businesses. And we aren't barking at it! We don't really bark as it is, but some of our readers tend to make a little noise at the fence line at times. We still love y'all though.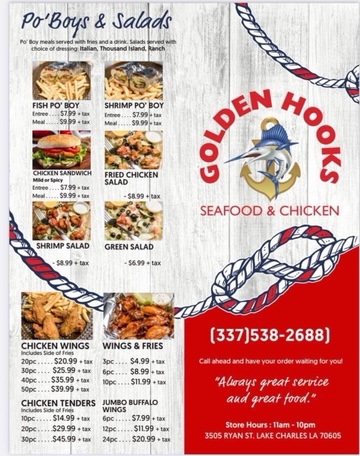 When we researched Golden Hooks, we found a business in Lake Charles located on 3505 Ryan Street. The logo has the same font(typeface for our graphic artist peeps), so that tells us that it's most likely the same company. However, we couldn't tell if this is a franchise or anything due to the little information provided. We will just go with—it's definitely probably related.
We managed to grab the menu images for the Lake Charles location, assuming that it would be similar to Lafayette. If it turns out to not be the same, sorry. We can only do so much and it's too cold outside to call them, so there's that.
As far as an opening date, it could be soon as they are moving into an already established fried food restaurant.
Check out the Lake Charles locations Facebook page at https://www.facebook.com/Golden-hooks-seafood-chicken-poboy-935490033282866/