A new crawfish joint, called C'est Bon Crawfish, is now open at 3301 Chemin Metairie in Youngsville.
C'est Bon Crawfish, a dine-in experience serving boiled crawfish, shrimp, and crab legs, began construction in early 2020. But out of concern for the safety of the community, the opening was postponed until now.
This new local restaurant is not your 3-pound small order spot; it's more like a 10 pounder that leaves you satisfied and stuffed. The large 7,500 sq. ft. building features a 4,000 sq. ft. dining area. Their boiling room alone is 2,500 sq. ft. They've got plenty of space no matter if you're eating alone or bringing your whole family. they've got the room. On second thought, since we're located in South Louisiana, as long as your family is less than 220 people, they've got you covered. Speaking of family, even though C'est Bon Crawfish's building is large, it's got that small mom & pop back yard boil kinda feel. It's the kind of place where you're encouraged to sit down, cut up, dig in, and have a good time. A backyard boil atmosphere without the after-party clean-up.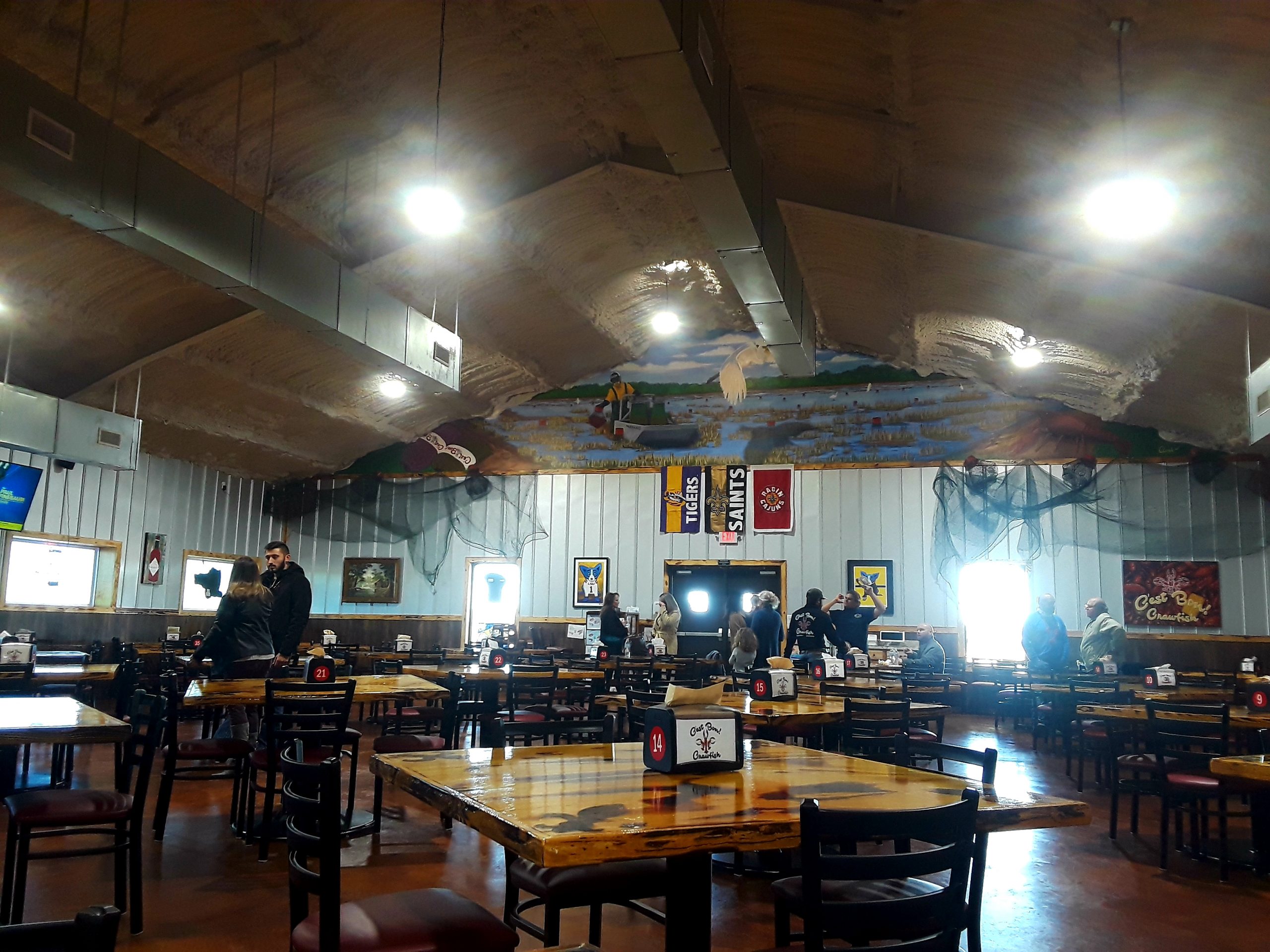 The crawfish business is part of this local family's legacy going back over 40 years. The owners, Kelly and Keith Broussard, have been crawfish wholesalers going on 20 years now. With all those years of experience, Kelly and Keith know what they're doing from the perfect way to boil to the perfect way of seasoning, they've got it down. And you better believe that they have their own custom Cajun seasoning and dip as well.
A lot of thought and creativity went into the construction of the restaurant; it was a family effort from the beginning. Kelly's brother, Justin Guidry, owner of Guidry's Construction, built the restaurant from the ground up and put thought into every intricate detail for an enhanced crawfish dining experience. We're talking from the pouring of the slab down to the detailed crown molding inside, no detail was left untouched. The wood dining tables feature burned in Fleur de Lis, are all custom-made by the family. And as you enter the restaurant, you'll notice that one wall features a large mural painted by local artist, Glenn Clark. The bar features a 100-year-old sunken cypress log. It's a beautiful sight to see.
Being wholesalers, Kelly and Keith, own and fish their ponds and have direct control of their supply. That means that despite the cold weather that we've been experiencing recently, they've been able to keep the pot hot; keeping every Cajun's crawfish dreams alive.
As an increasing number of developments & businesses flock to the Youngsville area, a need for a large dine-in crawfish restaurant in the area was needed. And C'est Bon Crawfish answered the call giving the community what they needed. They're dedicated to their customers and are eager to give their patrons what they want, which is beyond the meaning of their name.
The doors are now open, and the ribbon has been cut, so the only thing left to do is to peel the tail, suck that head, and laissez les bons temps rouler, cher!