You know what show we love to watch? We love ABC's Shark Tank.
Many business minds, creators, inventors and so on, love this show, but what if you had a local chance at Shark Tank—Louisiana Style. INNOV8 Acadiana is hosting Accelerate Acadiana, which is a program designed to help entrepreneurs and startups with potential funding, and resources to get off the ground. Take WAITR for example, with some of the same resources, WAITR was able to grow in a big way.
We are sharing with you this information and press release, in hopes that we can help foster growth in Acadiana. We will be doing follow-ups along the way, and even highlighting some of the ideas or businesses that move ahead in the program. If you would like to apply, click (here). Deadline for applying is July 30th.
https://innov8acadiana.org/accelerate-acadiana-application/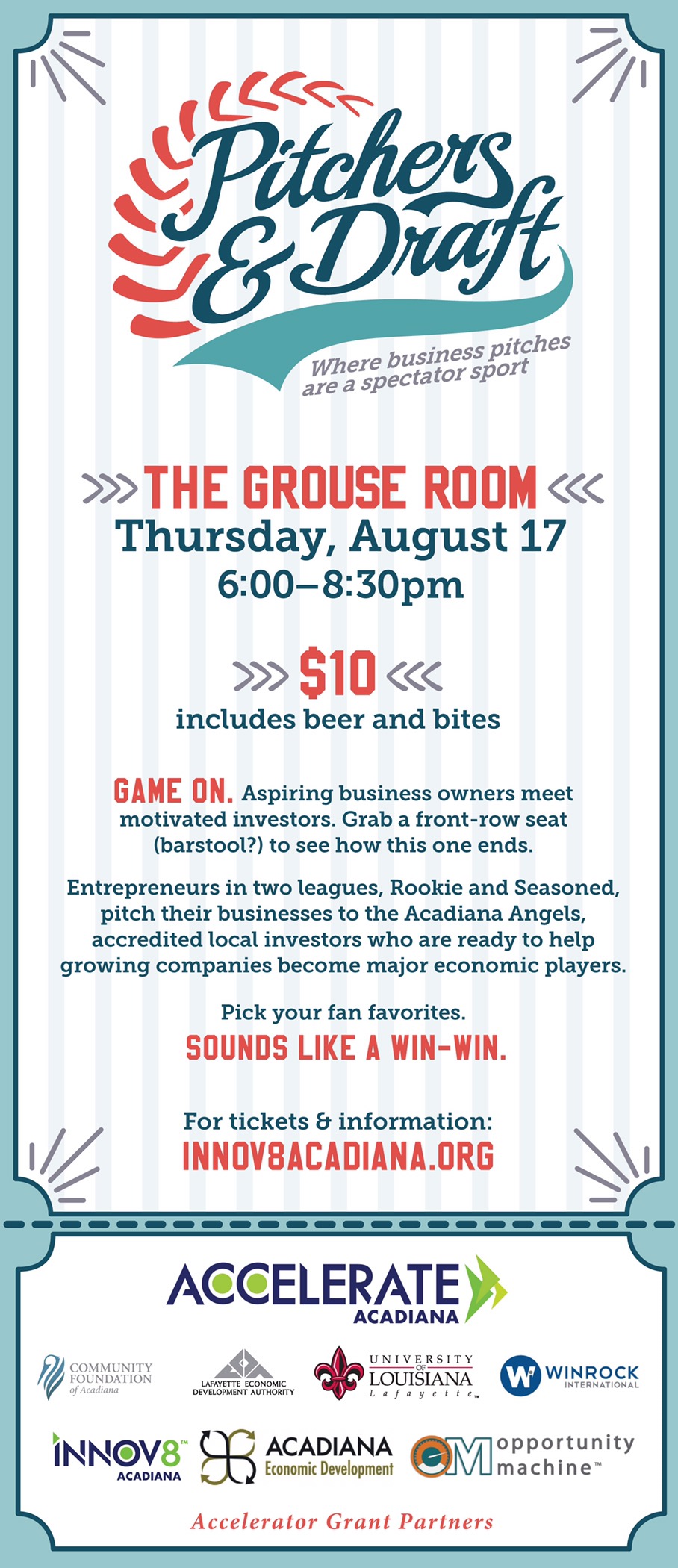 See full press release below:
(Lafayette, La.)- Accelerate Acadiana, a new program brought to you by INNOV8 Acadiana, the University of Louisiana at Lafayette (UL Lafayette), and Lafayette Economic Development Authority (LEDA)'s Opportunity Machine (OM) is now accepting applications from companies of all sizes looking to grow their businesses. Initial target industries for the program include companies in the oil & gas, healthcare and technology fields, but businesses from other industries are also encouraged to apply. Deadline for entry into the program via the INNOV8 Web Site is July 30, 2017 and the first public kickoff event showcasing the chosen companies is August 17, 2017 6PM at the Grouse Room in Lafayette.
Here's how the program works: a company looking to start up, scale, or expand will first apply for the program through the INNOV8 Acadiana Website. Eight companies will then be chosen from the pool of applicants.  These companies will be provided free office space at the OM where their specific needs will be assessed. Support will then be given for 14 weeks from a pool of mentors and professional service providers free of charge to each company. Pitches to potential investors will also be made during the program for capital infusion in exchange for equity.
For example, a technology based company who needs help with marketing, accounting, and patent protection could apply for the accelerator program.  The program would provide the company access to CPA's, marketing professionals, patent attorneys plus connections to C-level visionary leadership to guide them through their decision making processes. Accelerate Acadiana participants will have access to over 50 mentors and  200 local and state-wide accredited investors motivated to partner with great business founders short and long term.
 "The two 14-week accelerators will provide a wide range of commercialization and capitalization assistance to growing companies" said Pete Prados, Accelerate Acadiana Program Director. "If you're an entrepreneur with a great business ready for outside investors and incredible mentors then apply now and we'll do everything possible to help you become wildly successful." said Zach Barker, Director of the OM.
UL Lafayette, Community Foundation of Acadiana (CFA ) and LEDA were awarded an Economic Adjustment Assistance Grant from the Department of Commerce's U.S. Economic Development Administration (EDA) worth $700,000 to primarily fund the marketing and operations of Accelerate Acadiana.  The fund will not be used to invest in business equity. UL Lafayette, INNOV8 Acadiana, a CFA Company, and the OM have pledged an additional $754,000 in-kind services to include office space, mentors, and program operations to support the Accelerate Acadiana program.  Acadiana Economic Development Council and JP Morgan Chase contributed financial resources and leadership to make this grant possible.  One Acadiana and the Acadiana Angels have also been instrumental in helping the program come to fruition since inception of the grant application almost one year ago.
The program will kick start with a 'Pitchers and Draft' themed event scheduled for August 17th at 6PM The Grouse Room in Lafayette, Louisiana. The event will showcase all of the winning applicants to the program and provide a "quick-pitch" platform for others going through OM training. Regional investors, mentors, area business leaders and enthusiasts will be in attendance at the event.   "Our growing group of accredited investors plus other state-wide groups are eager to invest in successful companies now. We can't wait to meet the entrepreneurs who are accepted into Accelerate Acadiana," said Alan Hebert, Director of the Acadiana Angels.
Accelerate Acadiana will run parallel to the University's fall semester which also begins in August. This will enable students who are enrolled in entrepreneurship courses to collaborate with the program's participants. "We want to solve problems and need people with that forward thinking attitude to join us," said Dr. Joseph Savoie, President of UL Lafayette.  "These interactions might be the first steps a student takes toward an internship or job, or perhaps spark an idea where students create their own startups," said Dr. Keith Credo, an associate professor of management in the B.I. Moody III College of Business Administration and one of the many business mentors of the program.
For more information visit www. INNOV8Acadiana.org/AccelerateAcadiana.