The Lafayette Artisans and Farmers Market, which has been at Moncus Park for ten years, supports more than 140 vendors and small businesses. Over the course of those 10 years and the development of Moncus Park, it became clear that a permanent physical structure that could serve as a dedicated space for vendors was needed, especially during inclement weather days.
The Farmers Market Pavilion is named after Paul A. Doerle Sr., who was a visionary in the food industry and a community leader. He and his father built a small produce business into a nationally recognized one. The naming of the Pavilion honors his legacy.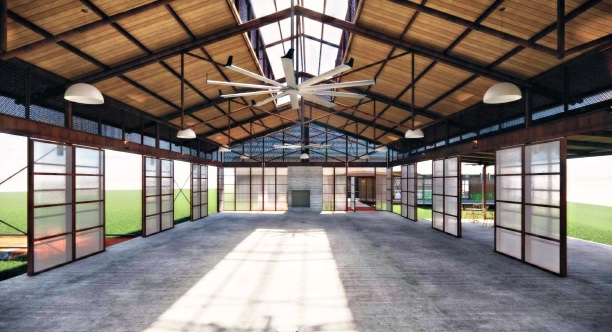 Rendering Provided by Moncus Park
The new 3,000-square-foot covered ADA-accessible farmers market pavilion, designed by Lake | Flato, a well-known architectural firm that's big on innovation and sustainability, will feature an open-air design with restrooms, operable panels to open or close the space, a rain garden, a bosque tree courtyard, and a back porch overlooking the front 50 acres of Moncus Park.
This project was possible due to the generous gift from the William C. Schumacher Family Foundation, along with support from the Lafayette Economic Development Authority (LEDA) and funding from the State's Capital Outlay Program. This program uses state financing to fund public improvement projects that don't have dedicated funding sources as well as self-generated revenues to acquire, preserve, and develop lands, buildings, and permanent improvements.
The pavilion will truly be an asset to the Lafayette community and to the 100-acre Moncus Park that is still yet to be fully realized.
The tentative completion timeframe is expected to last for 12-15 months with an expected opening date hitting near the Fall of 2024 or early 2025.
For more information about the new Farmers Market Pavilion, see their website https://moncuspark.org/paul-a-doerle-sr-farmers-market-pavilion/.
You can also follow Moncus Park at https://www.facebook.com/LafayetteCentralPark?mibextid=LQQJ4d.