A new cross-industry conference, called Innovate South will be held in Lafayette, LA this November.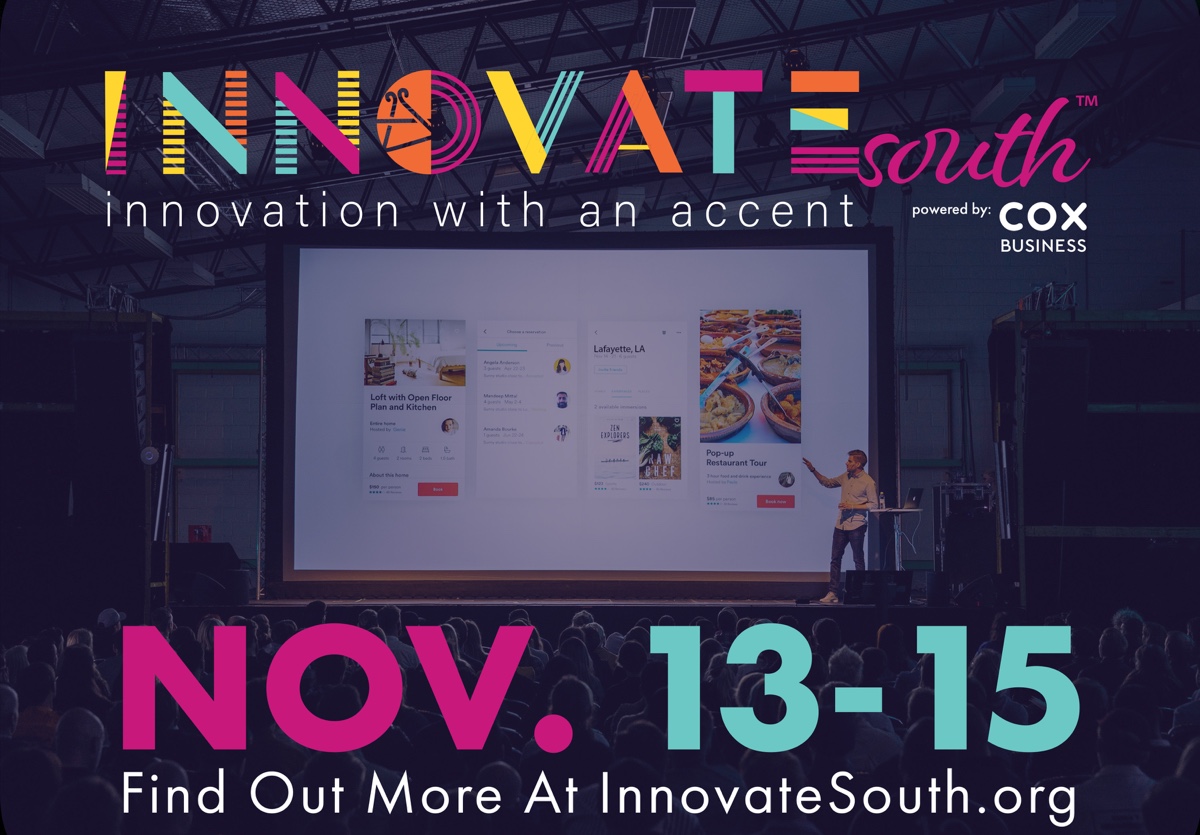 Open to all creatives, visionaries, forward-thinkers, and entrepreneurs! Everyone from the well-rounded marketing guru to the first-time business owner just getting their feet wet will come together in Downtown Lafayette on November 13-15, 2019—during National Entrepreneur Month—to learn, share and celebrate innovative best practices in business and marketing. Innovate South offers a collaborative space to share and learn from your peers across three days of networking events, panel discussions, keynote presentations and more. It's like if Silicon Valley came to Lafayette, but sub the valley with zero elevation at all.
"By bringing in entrepreneurs, innovators, investors, and community leaders from across the Gulf Coast, Innovate South will create a melting pot of ideas and peer-to-peer learning, which will establish an educational and social platform that supports the growth of the innovative and entrepreneurial culture in the Gulf Coast." — Opportunity Machine Director, Destin Ortego.
Opportunity Machine's Innovation Conference, Rally Marketing's annual Social Media Day, and Cox Business' Get Started Medical Pitch Competition have joined under the Innovate South umbrella. November 14 and 15 will be "Startup and Small Business Day" and "Digital Marketing Day" respectively.
"The evolution of Social Media Day into Digital Marketing Day under the new Innovate South event was a natural one. We've been mentors and supporters of the Opportunity Machine for years as education is one of our key initiatives," said Rodney Hess, Vice President of Rally Marketing. "The Rally Marketing team is excited to help further this mission and bring the first-ever Innovate South to life."
The Cox Business Get Started Medical Pitch Competition, in partnership with Lafayette General Health, is a live forum and pitch competition that will bring together some of the best and brightest minds in the medical industry. The winner will take home a $20,000 cash prize.
Visit https://www.innovatesouth.org/ for more information on attending the conference.
Below is a schedule of events:
• Wednesday, Nov. 13 – Innovate South VIP Kick-Off Event at Rock'N'Bowl from 6:30 PM – 9:00 PM
• Thursday, Nov. 14 – Startup and Small Business Day at AcA from 7:30 AM – 4:00 PM
• Thursday, Nov. 14 – Get Started Medical Social Event at AcA from 5:00 PM – 6:30 PM
• Thursday, Nov. 14 – Get Started Medical Pitch Competition at AcA from 6:30 PM – 9:00 PM
• Friday, Nov.15 – Digital Marketing Day at AcA from 7:30 AM – 4:00 PM
• Friday, Nov. 15 – Official Innovate South Wrap Up Event at TULA Tacos from 4:00 PM -7:00 PM