It's been three months since The Grand Theatre 16 tragedy. The Grand Theatre on Johnston has remained fenced in and quite, much like a post apocalyptic scene from a movie, go figure. Instead of re-opening for business weeks after being released back to the owners, they've decided it was time to renovate. Upon passing, it is easy to spot the fresh coat of paint that has been started, but what about on the inside? I wish I could tell you about all of the good changes that are happening on the inside, however, I don't know the details. What I can do is assume, and we all know what that does, so I'll tread lightly. First off, I did try to get info from The Grand Theatre Facebook based in New Orleans, but they didn't have a whole lot of info for me. I can only assume that fresh paint will be applied on the inside, and maybe even new carpet, if it's needed. Surely, there are some old areas that need attention, but for me, I thought the place was in pretty good condition. Although, in the wake of what happened, you can be sure repairs and or replacements are being made. It will be weird to go back once it re-opens, and knowing how strong our city is will only make it easier to approach.
Below are some photos that I've taken from before and after paint has started. Soon, I hope to be able to go inside for a look into what will be revealed when re-opened.
The Grand Theatre sign as it stands.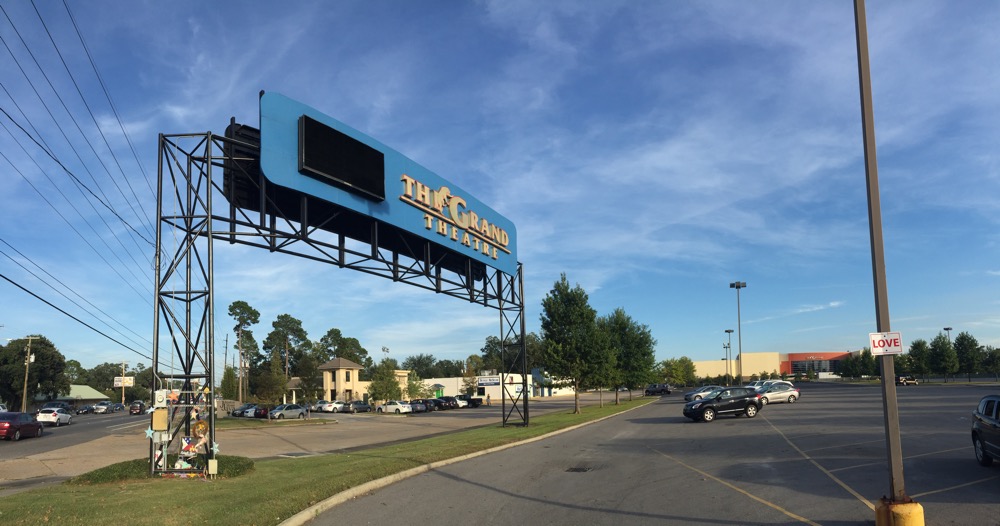 Today –