Today, Lafayette Consolidated Government(LCG), the Lafayette Convention & Visitors Commission(LCVC), and the Acadiana Hotel and Lodging Association announced plans for a new, state-of-the-art indoor sports facility that is said to put Lafayette, Louisiana on a gulf coast-wide map for indoor sports complexes that does not exist along the I-10 corridor from Jacksonville, FL to Houston, TX.
The location for the planned indoor sports complex is aimed at the existing Comeaux Recreation Center space at 411 W Bluebird Street behind Lourdes Medical Center.
Featured images in this post show The Finley Center, part of the Hoover Metro Complex in Hoover, Alabama. These images were used in part to illustrate what the vision would be for Lafayette's planned indoor sports complex. All images were sourced from https://www.brasfieldgorrie.com/expertise/project/the-hoover-metropolitan-complex/.
"An indoor facility will position Lafayette Parish to host state, regional, and national tournaments," Mayor-President Josh Guillory said. "Our people shouldn't be forced to travel to facilities in other states when we have an opportunity to have our own state-of-the-art facility in our community.
According to the press release, the Huddle Up Group, a sports tourism, marketing, venue, and event consulting company, conducted an assessment of all sports venues in Lafayette Parish. They concluded that the parish lacks an indoor facility capable of hosting major sporting events, including tourism-driving regional, state, and national events.
"This is a historic announcement for Lafayette Parish and the region and will be a game changer for the tourism economy," said Ben Berthelot, President & CEO of the Lafayette Convention & Visitors Commission. "With the support seen from the hotel-motel community from day one, and the ability to drive an additional 30,000 plus hotel and motel plus room nights per year, I think it's evident this is a pivotal moment. It's also another great example of a project where quality of life for our residents and the tourism economy both win. We can't wait for it to come to fruition, and we look forward to getting to work selling the facility."
During the press conference, we inquired about the project's timeline. Mayor-President Josh Guillory explained that the project is in its early planning stages. He mentioned that it will soon go out for bids/RFPs (Requests For Proposals). In a lighthearted tone, Guillory speculated it could take up to 10 years, but then clarified that if all goes as planned, it might be completed within a few years.
We also asked about the fate of the current Comeaux Recreational Center. The response indicated that demolition is a possibility, although there are considerations for utilizing parts of the existing structure. Nevertheless, the general consensus appeared to favor demolishing the current rec center to pave the way for a more modern facility. Additionally, there were mentions of potentially relocating the current baseball fields at Beaullieu Park to accommodate the new complex.
"Investing in such facilities diversifies the offerings of our region. Beyond tourism, it can attract sports-related businesses, training camps, and conferences further benefiting hotels, restaurants, and retail," LCVC Board of Directors Vice Chairman and Divi Hospitality Managing Principal Ricky Patel added. "It will also promote a healthier lifestyle and foster a sense of community pride."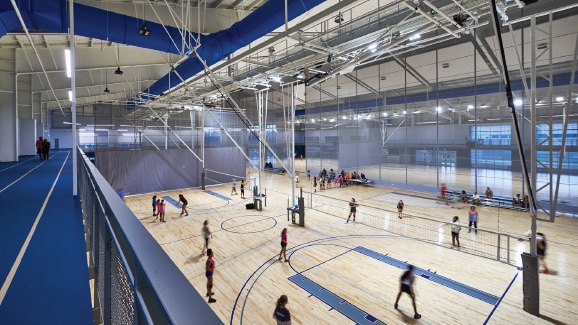 Below are a few key takeaways to digest as the project fleshes out.
Location: The proposed facility is tentatively planned for the Comeaux Recreational Center in South Lafayette, strategically positioned to serve the entire region where families will have access to many new sports-related business like Top Golf, Dave & Buster's, etc.
Multi-Use: This cutting-edge facility will boast a minimum of eight basketball courts, 16 volleyball courts, and the flexibility to accommodate a variety of sports, including pickleball, wrestling, and more.
Regional Impact: Lafayette currently lacks an indoor venue capable of hosting major sporting events. This project will position Lafayette Parish to host state, regional, and national tournaments, drawing athletes and spectators from across the country.
Economic Boost: The facility is projected to generate a minimum of 30,000 new room nights annually, driving hotel and motel stays, restaurant visits, and retail spending in the area. It will diversify the region's offerings, attracting sports-related businesses, training camps, and conferences.
Community Benefits: In addition to its economic impact, the facility will provide Lafayette's youth with a year-round hub for sports activities, saving families money spent on travel to neighboring communities. It will also foster a sense of community pride and promote a healthier lifestyle.
Funding: The project's funding will come from a two percent self-imposed assessment at hotels and motels in Lafayette Parish. This initiative is authorized by statewide legislation, and over 71 percent of local hotels and motels have already pledged their support.
No official renderings, plans, or further concrete information has been made public as this project is still in its early planning stages.