A new location for Lafayette Internal Medicine Clinic (LIMC) is under construction at 206 Energy Parkway and Feu Follet Road.
LIMC provides medical services like comprehensive health screenings, routine and urgent medical care, chronic care management, diabetic prevention visits, diabetes management classes, periodic, physicals, and transition of care Management. They also offer diagnostic services like electrocardiograms (EKG), pulmonary, function testing, carotid doppler, echocardiogram, peripheral vascular studies, ultrasound, and balance & VNG testing. The list goes on if you visit their website at limcllc.com.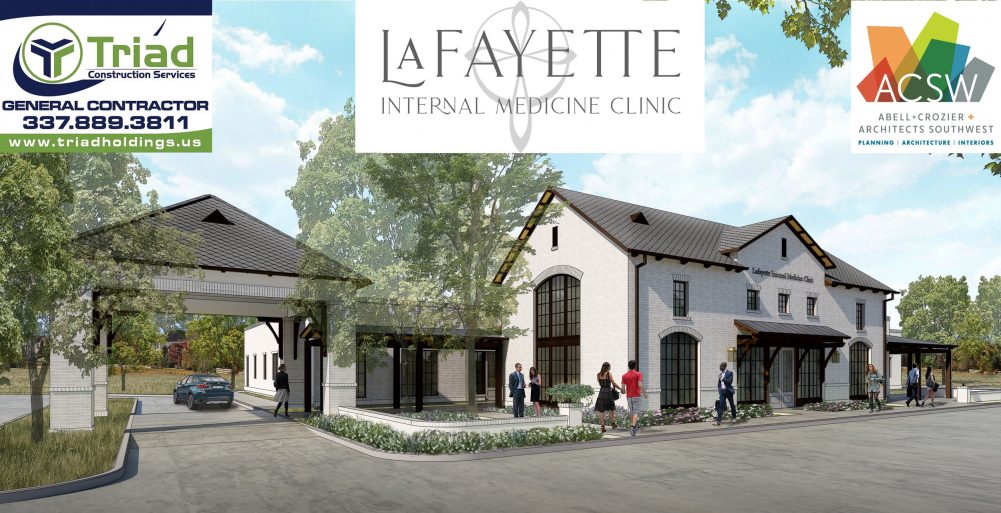 We tried to get detailed information on the new location but any details are being withheld for at least a couple of months out. So, being that we are designed to let you guys know about new developments around the Parish as early as possible, we are moving ahead with posting. Besides, the information is public knowledge and there is a sign on the property.
What we do know, aside from the above service list, is that they are currently located on the fourth floor of the James Devin Moncus Medical Office Building in front of Our Lady of Lourdes hospital, adjacent to Park Place Surgical Center.
Judging by the rendering and the fact that it is a medical facility, we estimate that this project will be completed in 5-7 months. It may be sooner, it may be a little sooner, it may not be soon at all—we'll see what happens. But regardless of what's happens, we are totally prepared.