Yesterday, UL Lafayette released that Cajun Field would be getting a much needed renovation and also a new name, thanks to an extremely generous financial gift from Our Lady of Lourdes Regional Medical Center.
While this is obviously amazing news and every Tom, Dick, and Harry news organization had to share it as fast as they could—because ratings. We decided that we would wait and give you more at which to look. Like many, we are visual people, so we took time to reach out to get some good renderings for you guys on top of the good, but wordy details. Huge thanks to UL Lafayette for suppling us with this beautiful renderings. Much love.
"The largest philanthropic gift in Louisiana Ragin' Cajuns Athletics history."

— University of Louisiana at Lafayette
Constructed in 1971, Cajun Field—now to be known as Cajun Field at Our Lady of Lourdes Stadium—thanks to a $15 million donation over 15 years, will soon receive the first major renovations in its 50-year existence that will ultimately change the way the complex feels for generations to come.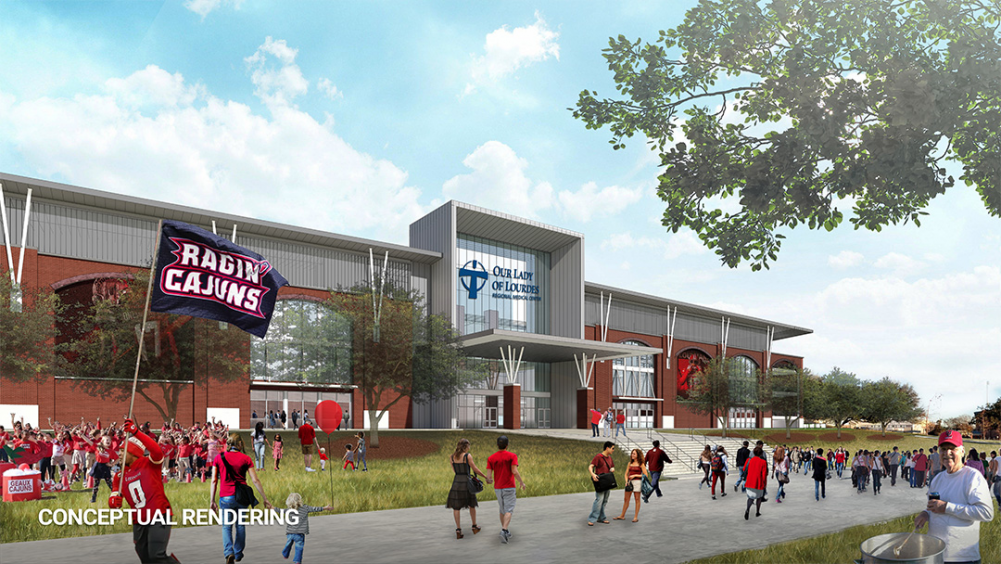 "This transformational gift from Our Lady of Lourdes will play a pivotal role in the future of our campus community and Ragin' Cajuns Athletics," Director of Athletics Bryan Maggard said. "Our Lady of Lourdes is one of the most vital organizations in Lafayette, as well as across Acadiana, and we are extremely grateful to join in this partnership to create a first-class game day experience for Cajun Nation and our student-athletes."
— RENOVATION DETAILS —
According to UL Lafayette, the new west tower of the renovated facility will feature premium suites, a luxurious club level and club seats, loge boxes, and press box. The premium amenities available to Ragin' Cajuns fans will offer new avenues for their involvement with the football program and the Ragin' Cajuns Athletics Foundation.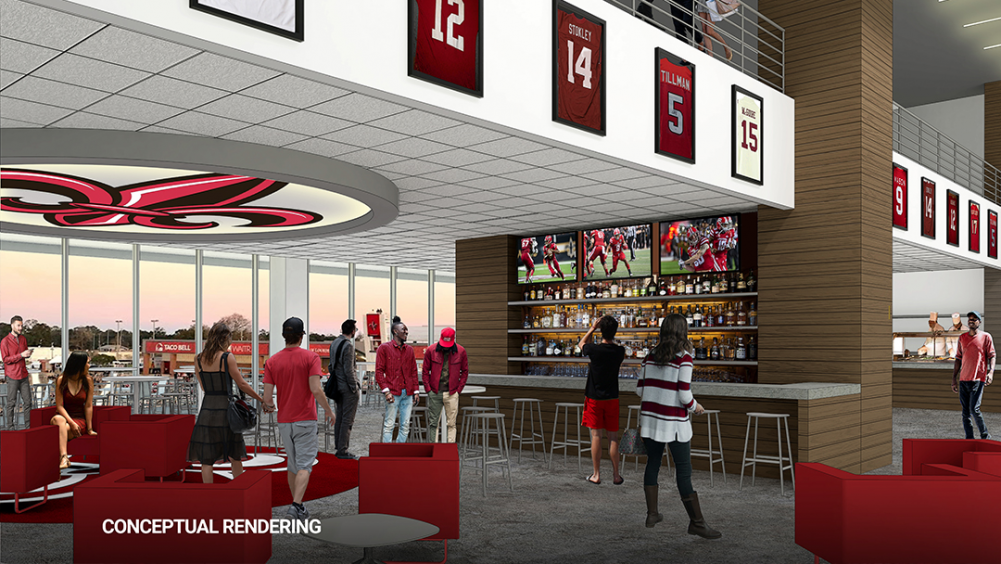 The Premium suites will include indoor private seating as well as outdoor seating for suite holders and their guests. Other amenities will include access to the climate-controlled club area, premium catered food and beverages, a cash bar with top-shelf alcohol, the ability to add additional food and drink, and a suite attendant to assist with game day needs. Ballin'—literally & figuratively!
Loge boxes will feature private outdoor seating and come with access to premium parking. Club seats will be assigned outdoor seating with high-quality chairs with armrests and beverage holders. Patrons in the loge boxes and club seats will also have access to the club area and all of its amenities.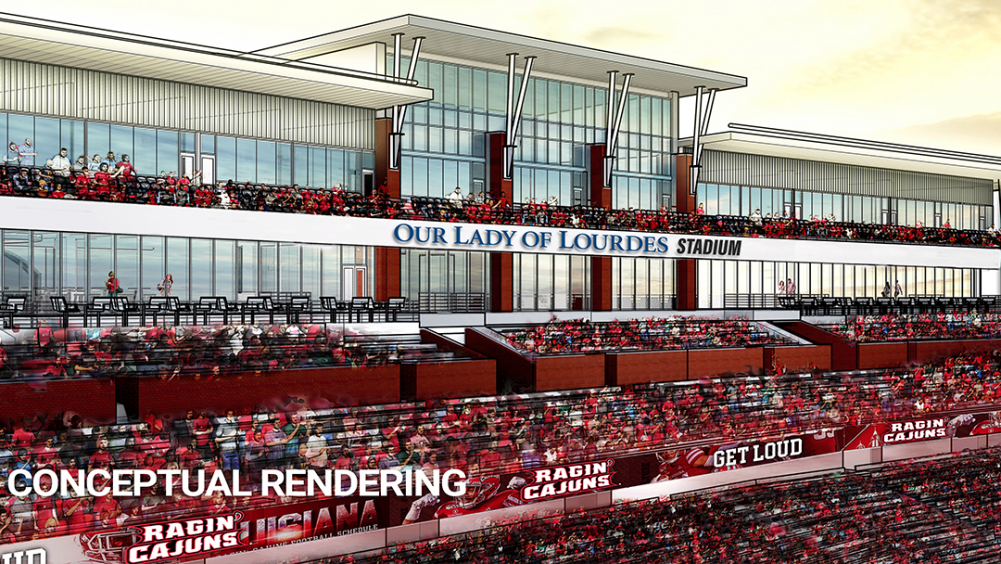 The club area will also serve as a dining facility for Louisiana's more than 400 student-athletes throughout the year. Additional plans for the project include a new videoboard, lights, sound system, renovated west side seating, new east side façade, and operational and office spaces for Department of Athletics staff.
We tried getting tentative start & completion dates for the new renovations, but our request wasn't filled.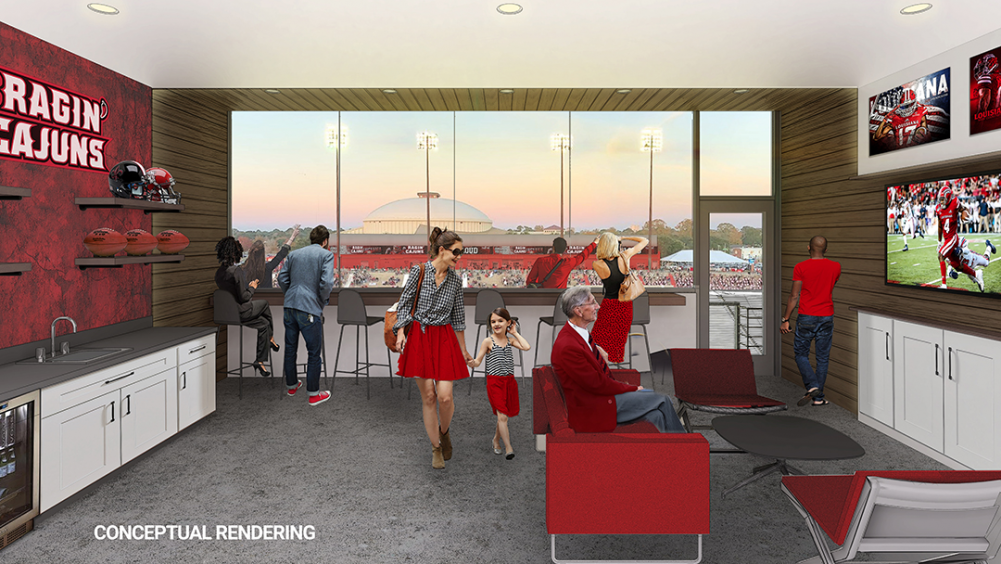 "Our long history of alignment with the University continues to evolve because our organizations share a collective vision towards a bright future for the Acadiana community we both serve," market president for the Acadiana Region of Our Lady of Lourdes Dr.Kathy Healy-Collier said. "Our partnership energizes all of our constituents, whether that's community service, economic investment, or personal health. We're elevating Acadiana's regional profile, attracting new students and businesses, and showcasing the Ragin' Cajun spirit. I call that a prescription for championship health."
"We are extremely excited about Our Lady of Lourdes' level of commitment to this project," Napier said. "This investment is a crucial part of the overall process of building our football program from both a recruiting and developmental standpoint. Our Lady of Lourdes is truly a member of the Ragin' Cajuns Football family, and we are thrilled to continue forward with them as a close partner."
— SEE FULL PRESS RELEASE HERE —
https://ragincajuns.com/news/2021/6/15/athletics-our-lady-of-lourdes-makes-historic-gift-for-cajun-field-stadium-renovations