Owned locally by Joe Louque and his dog named Miss Reba, Miss Reba's Green House is a modern CBD dispensary experience located in the heart of Downtown Lafayette at 315 Jefferson Street.
Miss Reba's Green House provides a wide variety of the purest, safest, and most effective CBD products on the market today. According to Joe, Miss Reba, and his team, this includes isolates(pure CBD), broad-spectrum(no THC), full-spectrum(minimal THC < .3% THC), and even delta 8 products. They also offer a nice selection of CBD-infused dog treats and other products to help with pet anxiety, especially during the holidays where fireworks are popping off, which causes some dogs to be uncomfortable.
So is this place on the up and up?
"All of our products are 100% legal and fully registered with the State of Louisiana, says Louque. "We have local brands as well as brands from Washington State, California, Colorado, and even Virginia. In addition to that, it's very important for us to be able to help educate others on CBD and the benefits of our products both mentally and physically.
Louque continues saying that, "with this journey also comes a lot of responsibility and we're very aware of that. It's extremely important for us to do it the right way."
From the moment you walk into Miss Reba's Green House, you feel as if the space pulls you in giving you that feeling of being somewhere familiar. There is a lot of green, obviously; from the paint down to the live plant wall art. But there is also a lot of comfortable seating, art along the walls, and a mix of decor that just makes you feel at ease. You may be thinking what I am thinking… "but, you're in a 'green house', of course, you're at 'ease.'" As coincidental as it may seem, there isn't anything in the air there besides clean, fresh, air-conditioned air, bebe.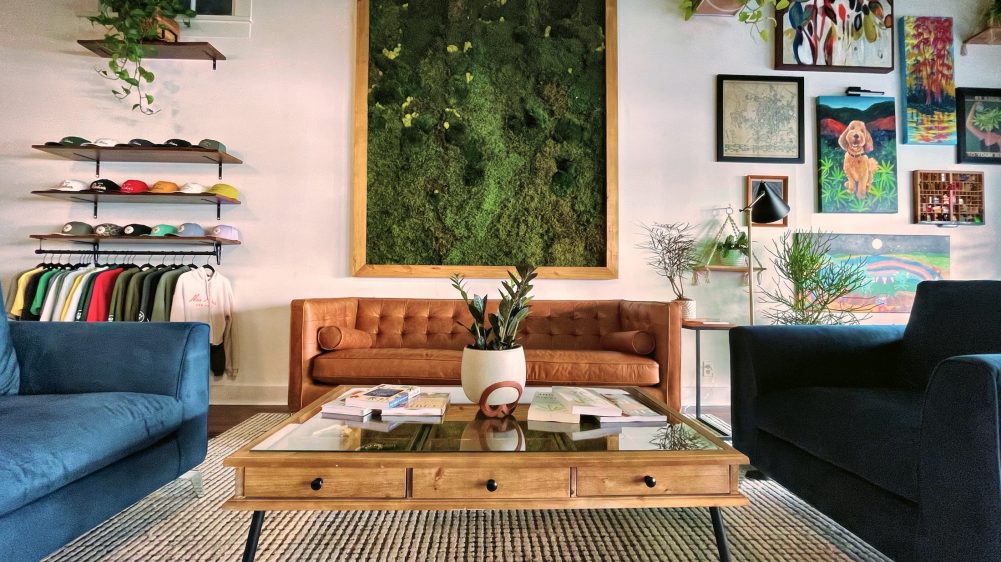 "We put a major emphasis on creating an environment that is acceptable for all demographics. With that being said, we still felt it was important to not segregate ourselves from our industry or industries alike," says Louque. "We're here to end the stigma and advocate/promote alternate ways of living; plant-based living. The more we can normalize, the more people we'll be able to reach and ultimately help."
Joe says that their mission is to serve and help those in our community and that's what they intend to do. "We refuse to take steps backward and we plan to be here for a long time. We can't wait to serve our beautiful city that has given us so much."
Miss Reba's Green House is open and you can follow them on Facebook at https://www.facebook.com/MissRebasGreenHouse or on instagram at https://www.instagram.com/missrebas/. They have a website that's in the works at http://missrebas.com/
See full photo tour at https://developinglafayette.com/wp/first-look-new-herbal-shop-open-in-downtown-lafayette/