Louisiana Gymnastics Club, currently located at 808 S. Saint Blaise Ln. in Youngsville, recently broke ground on a new, 14,400 sq ft gymnastics facility that will be located at 710 South Saint Blaise.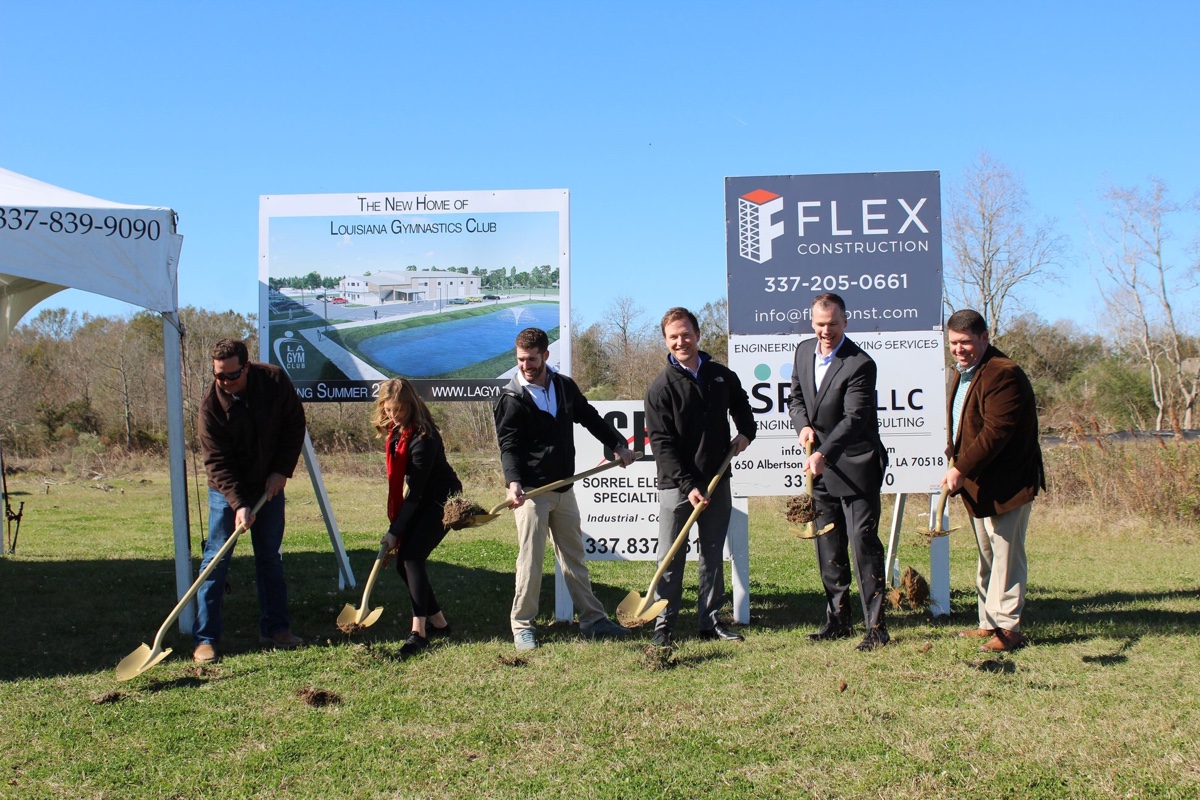 Photo of ground breaking, courtesy of LA Gym Club's Facebook.
The gymnastics club originally opened in 2015 in a 4,500 sq ft center comprised of three units inside of the Jolie Marche Shopping Center off of Hwy 92. They later maxed out their space and had to expand their preschool gymnastics program and waiting area into an additional 1,500 sq ft, totaling 6,000 sq ft. Now, they have outgrown their space again and are building a new 14,400 sq ft facility to expand equipment that requires more structural height & width. Additional parking is also a must for the growing business as the current space lacks the necessary amount of space.
"The New facility will be state of the art. We will have 12,000 sq ft dedicated in gym space with 4,400 sq ft allotted for the front of the house parent comfort and offices."
"The gym will have 20' high ceiling clearance throughout and have an extensive in-ground pit system. The expanded space will allow for full-size Olympic gymnastics equipment along with an array of progressive teaching stations. The progressive stations allow gymnasts to take incremental steps when learning difficult or dangerous skills while maximizing safety and accelerating learning. The in-ground pit system goes hand in hand with the approach. It will create multiple landing surfaces types from loose foam style pit to sunken super soft squish matting that allow for more or less error when landing and learning. The pit system also brings more of everyone's favorite. Trampolines. We'll have multiple in-ground trampolines of various sizes and bounciness. Not only are they are tons of fun they give us more tools to teach with."
All the space and equipment will allow us to teach more students and teach them better. Our class offerings will also expand increasing convenience for our families. I'm not going to go into all the cool tech we are going to have. You'll have to see it once it's in there. Of course, I could talk about all the amazingly awesome things we will have in the gym for days.
"I'm still having more ideas every day as it's becoming more real. I've had this place in my head for the past 7 years and that's not counting childhood dream years."
"The front of the building will have a large open front lobby entrance and front desk area and a few options of how you would like to spend your wait. Instead of a normal waiting/viewing area, we are trying to create a more comfortable waiting experience. We will have normal window viewing but we'll have a few other options. We'll have one area as a designated area for parents with active younger siblings. The walls will be full of creative fun things to play with and stay entertained. Another area will be a quiet reading nook. The main waiting area I'm pretty excited about."
"Imagine a coffee shop with the snacks, wifi, comfortable seating, TVs with and outdoor patio seating option that just happens to be attached to your child's gymnastics gym. That's what we are going to have."
"The front will also have a large party room. If you been to one of our birthday parties you would know they are amazing and the kids have a great time. Our pinch point on how well we can accommodate our guests on their special day has our lobby seating and table space. That will be a thing of the past. The new party room will be huge. It's basically the same size as all the standing room of our current location but all in one room dedicated to parties." 
A tentative completion date has been set for July 2020 for the 2020-2021 school year.
For more info, see lagymclub.com.