A new locally-founded juice business created through a grandparent & grandchild bonding moment, called Kiki's Juice Box, is bringing smiles to many in the Downtown Lafayette district.
"Kiki's Juice box started in earnest because they are a family who loves spending time together being productive."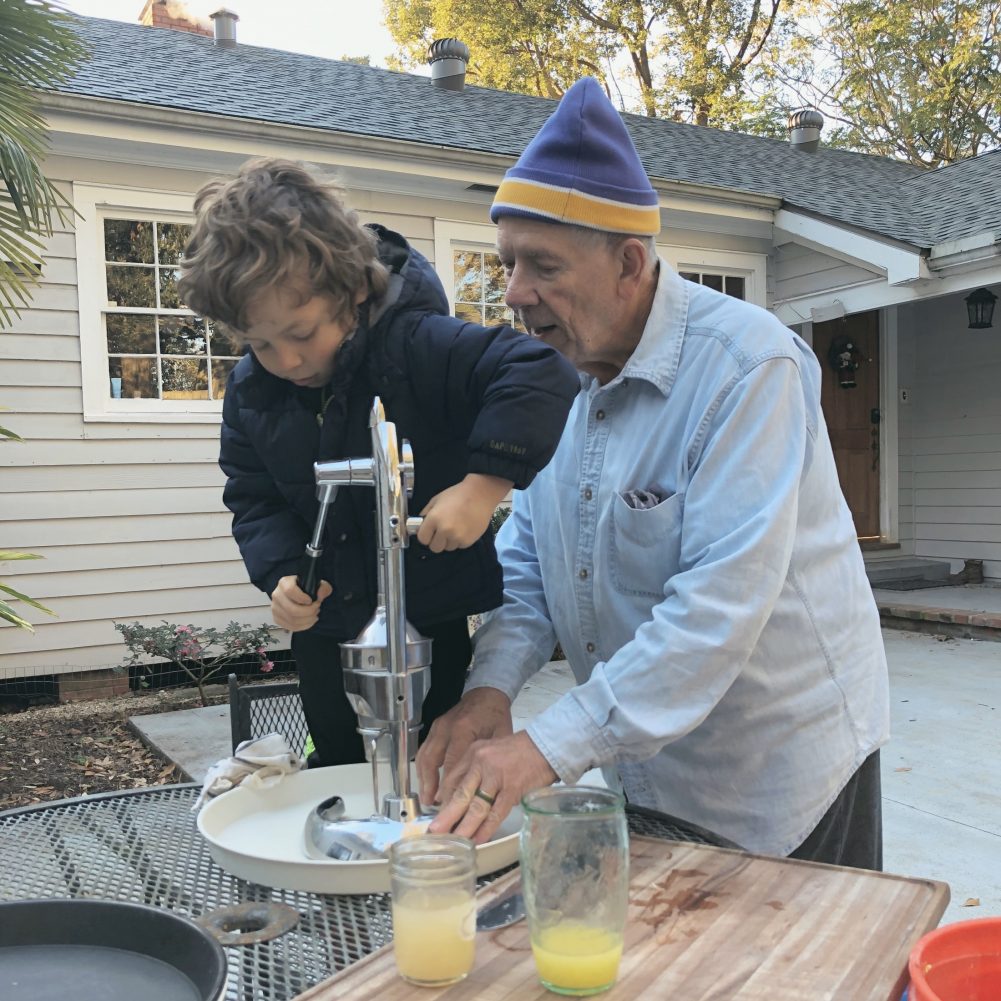 Named after five-year-old Noam whose nickname is "Kiki", a name given to him by his father, Ari Dolegowski, Kiki's Juice Box serves freshly squeezed & bottled citrus juices from locally-sourced satsumas, blood oranges, grapefruit, and sweet Louisiana oranges. When Noam was a baby, Ari would make a sound that was heard as "kikikikiki" toward Noam during playtime and Noam would joyfully respond. The defining revelation of the nickname came after Ari texted Jenée Naquin, Noam's mother, saying "I can't wait to be on the plane with you and Kiki."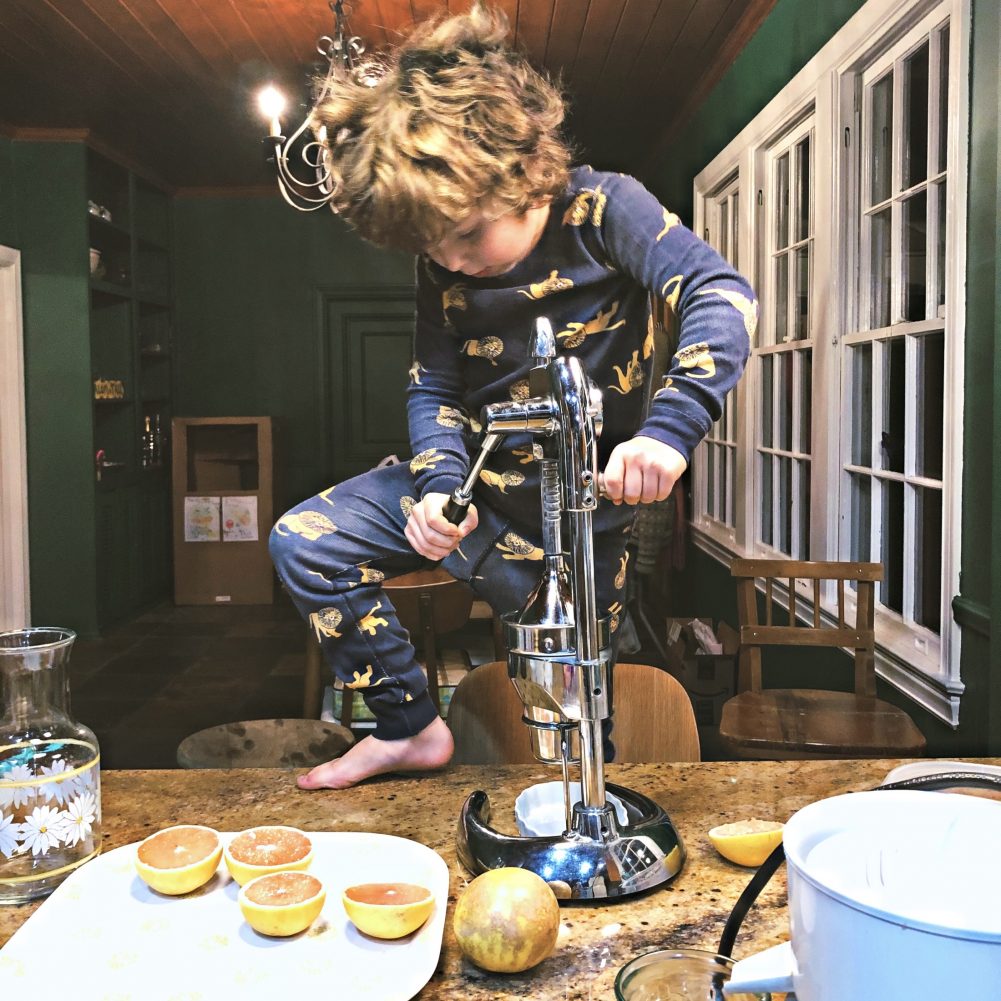 "The first mummers of a juice stand began shortly after Thanksgiving when Noam's grandfather, Chris, brought over loads of citrus fruits from his trees in Eunice, La, and a juicer. Paw Jet, as he's known to Noam, showed him how to juice satsumas, grapefruit, and Louisiana sweet oranges. For a five-year-old who can naturally be easily distracted, Noam paid close attention to the process. Perhaps the end reward of the world's sweetest, freshest juice was enough to keep him focused."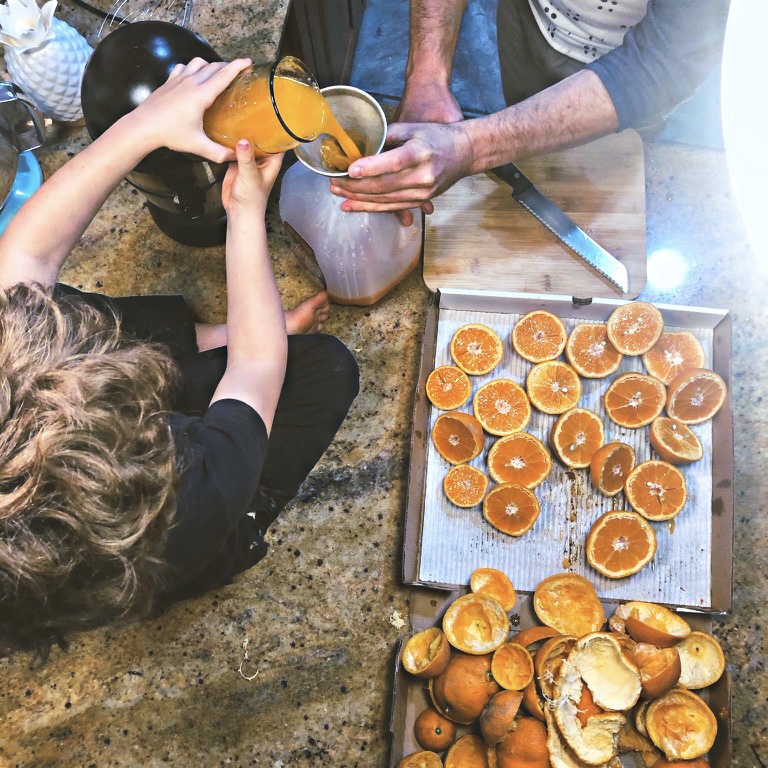 Noam's family has always had an entrepreneurial spirit. Even way back in the 1960s with Paw Jet's father, Ovelia "Shorty" Naquin, who started a Eunice-based furniture store, called Naquin's Furniture. So when Paw Jet noticed all of the juice they have produced due to Noam's juicing enthusiasm, he mentioned that Noam could start a little juice stand in the neighborhood. Noam's great-grandmother, Marjorie, saved and donated all of her little 8oz water bottles for the stand. And Noam's mom, a branding expert, helps individuals build and market their businesses daily so using the family trampoline they held a meeting with his dad, Ari, and aunt, Angenique, to research a name. As we already know, the name is Kiki's Juice Box. Once they settled on the name of the little venture, the family went to work creating the logo, printing labels & flyers, creating social media profiles, and even going as far as securing their citrus fruit supply by connecting with Saint Streets neighbors with trees ripe for the picking.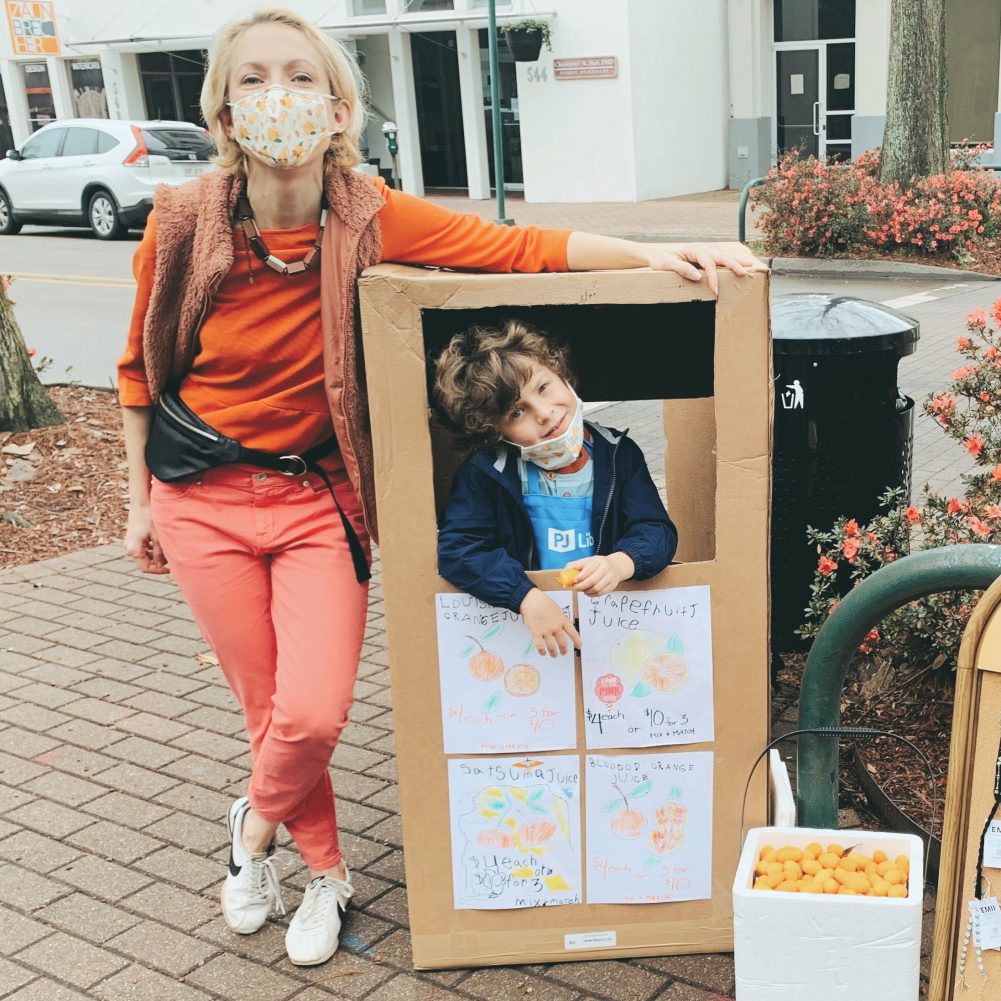 "The first stand was naturally a cardboard box."
Noam and his parents, Ari Dolegowski and Jenée Naquin, moved to Louisiana in the fall as part of the "big city exodus" happening across America from COVID-19. Noam was born in Brooklyn, NY where his parents lived for the better part of twenty years. His mom, a Cajun girl, says that she "always had a small desire to come back" to the Cajun heartland and be surrounded by close family. After the move, the family had several large wardrobe boxes that could be used to create a little stand. Those boxes would help start his first business while being around their family who was ready to help launch the juice box.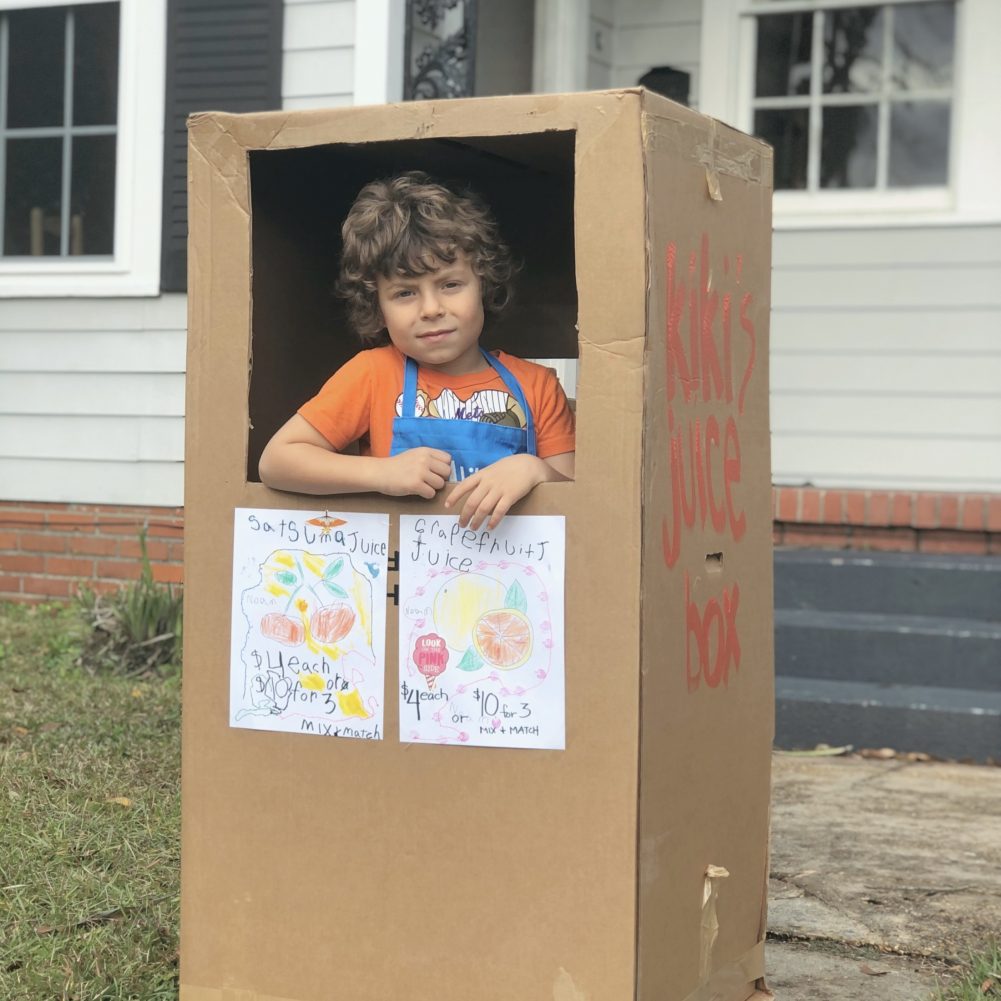 As the world continues to battle COVID, Noam's family says that it is not lost on them that many families are still suffering from the pandemic. This little business presents a great lesson in economics and entrepreneurship for Noam, as he learns the value of giving back. His parents researched charities that aligned with their family values and that could also be a great organization to donate toward. They eventually decided on a charity founded and run by their friend, Janet Patry, called Right2Thrive. They believe that everyone has the right to thrive, but often lack the guidance and opportunity afforded to many others. "Noam is fortunate to be born with guidance and opportunity so a percentage of all his proceeds are donated to provide this for others," says Noam's family. Read more about Right2Thrive here https://www.right2thrive.org/.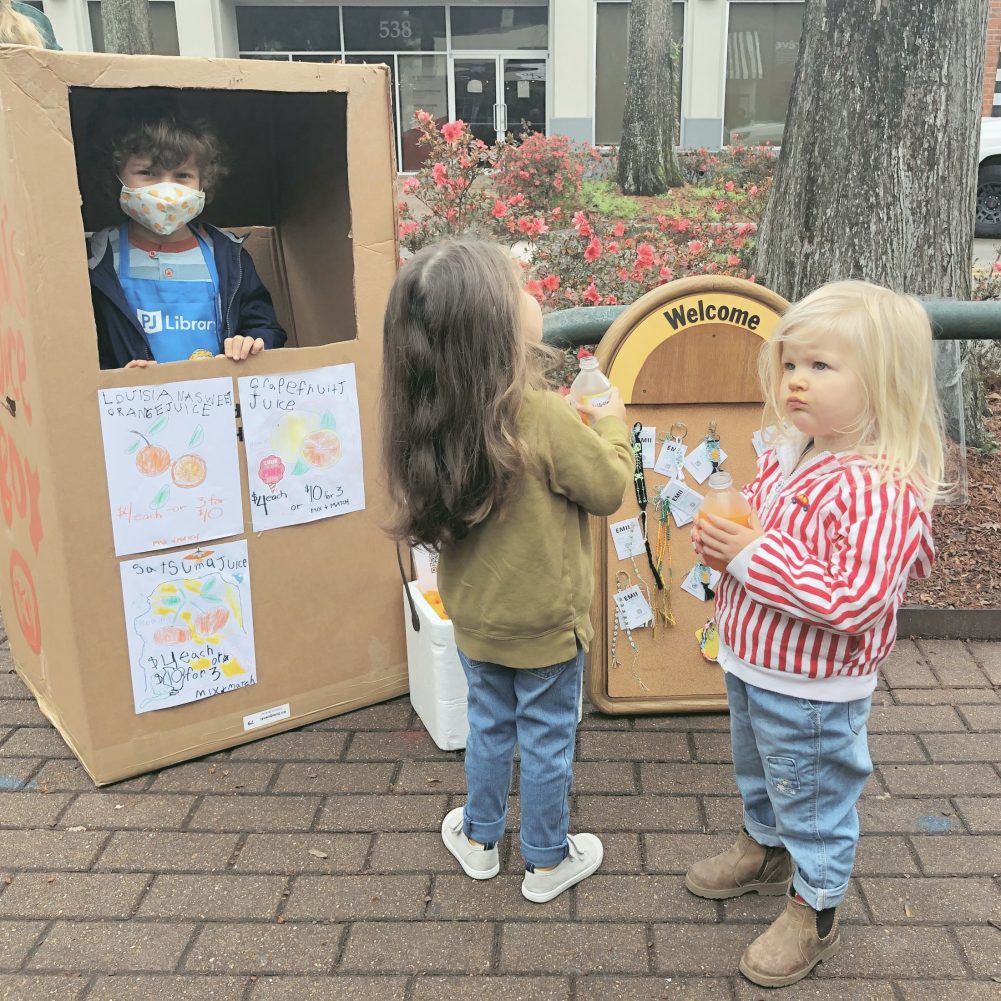 Kiki's Juice Box has been a fun, creative way for Noam and his grandfather to bond, spend time with family and meet new people in the neighborhood. And it also provides Noam with skills for the future.
"Noam surprisingly is not tired of juicing!"
The future of Kiki's Juice Box includes sourcing sustainable packaging while continuing to use his great-grandmother's handy bottle. The family says that when the citrus season is over, they will be tending their trees to make sure the next crop is even bigger and better.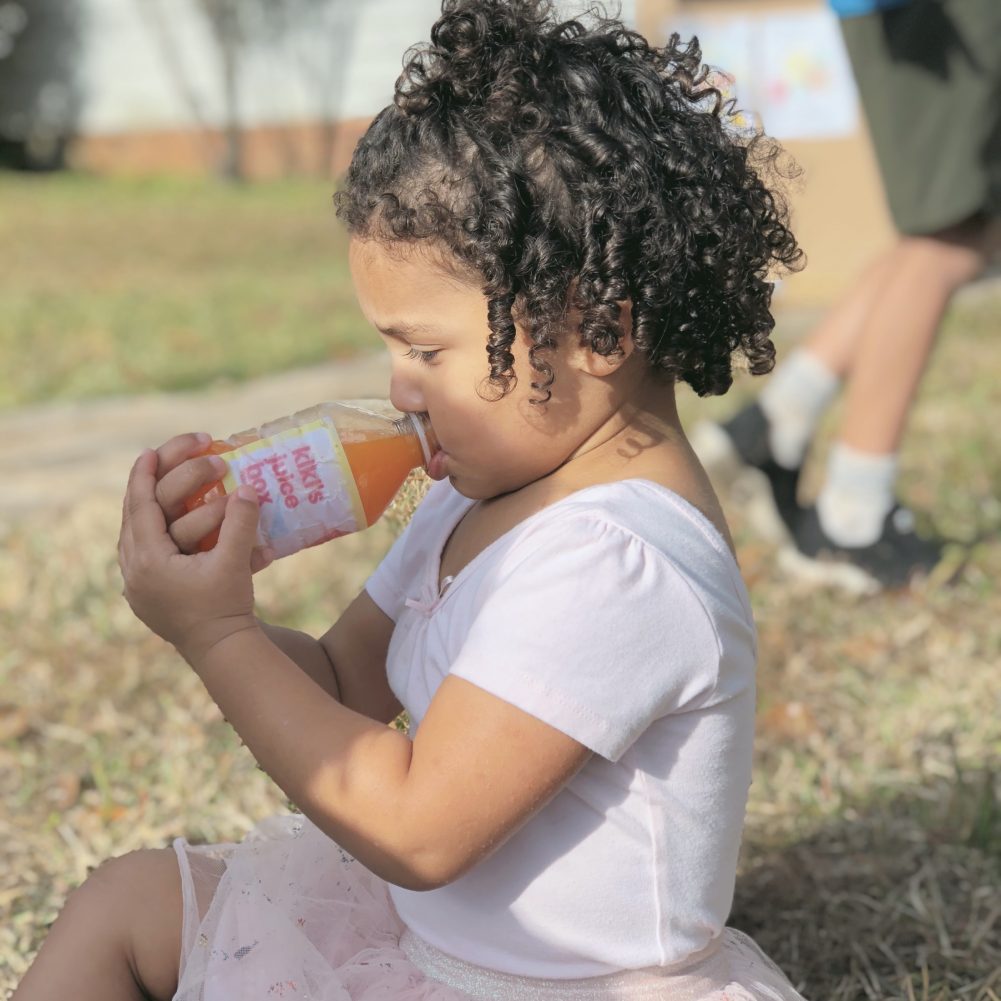 You can find Kiki's Juice Box in and near Downtown Lafayette, often set up in front of other businesses during pop-ups.
To follow Kiki's Juice Box, check out their instagram at https://www.instagram.com/kikisjuicebox/.