Featured image courtesy of mallatmillenia.com.
H&M, a Swedish, multinational clothing retail company known for its fast-fashion clothing for men, women, teenagers, and children will soon open a new Lafayette location inside of the Acadiana Mall.
H&M's Acadiana Mall Location will be a 16,000 square-foot retail space, located in the Macy's wing, across from Forever 21—another popular clothing retailer.
"The new H&M location will offer Lafayette residents a one-stop shopping destination for quality clothing for the whole family, with collections for ladies, men, and teens, as well as separate "store within a store" sections for accessories. The Acadiana Mall location will also carry the H&M Kids collection for newborns to 14-year-olds. The breadth and variety of H&M collections make it easier for any consumer to find fashionable products, no matter their personal style. With an emphasis on design, quality, and sustainability, H&M offers inspiring, high fashion at an unbeatable value."
H&M has experienced a warm welcome from customers and fans in Louisiana and is happy to continue to expand its store and employee count in the state.
Over the past few months, the Acadiana Mall has had to shuffle around certain temporary businesses and certain permanent businesses in order to make room for the arrival of the new H&M. Customers visiting the Mall may have noticed portions of the mall looking a bit sparse in terms of retail space. Though, plans for this new retailer have been in place for nearly a year. When it comes to the mall's health, the Acadiana Mall will be over 90% occupied by the year's end.
"In 2019, H&M was recognized as one of America's Best Employers for Diversity 2019 by Forbes magazine. For available job opportunities, please visit career.hm.com."
The build-out for the new Lafayette H&M is estimated to be valued at 1.4 million with construction soon to start. Barricades are now up and H&M graphics will soon be placed in anticipation for the opening in Fall of 2019.

Barricaded portion of the Macy's wing where H&M will open.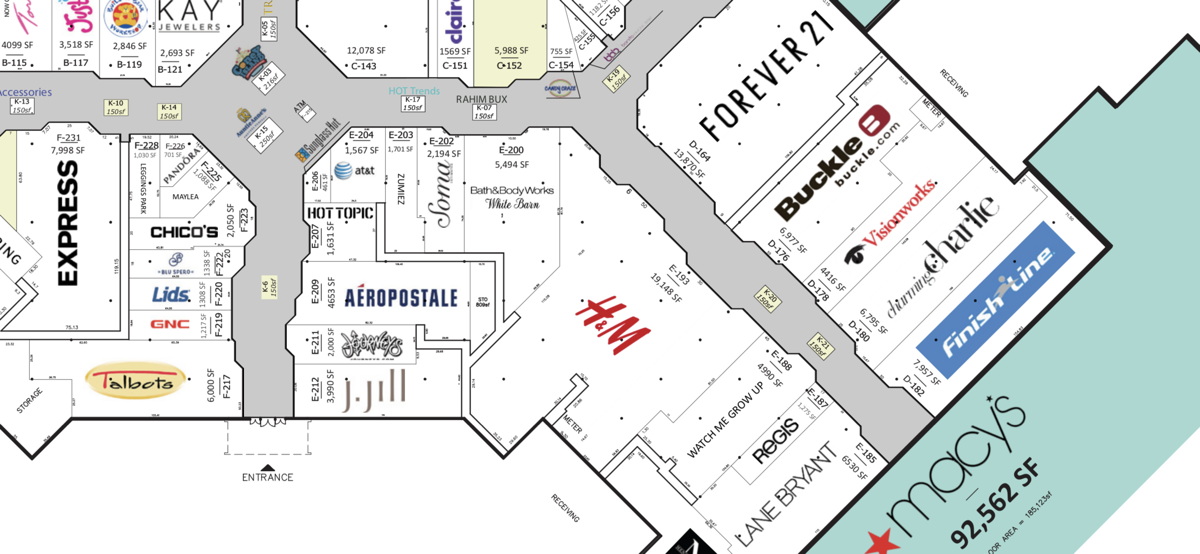 Mall leasing plan, courtesy of masonam.com.