A new restaurant, called Corner Seafood & Wings, is coming to Youngsville at 107 Centre Sarcelle Blvd, formerly Glaze Donuts.
The local eatery's menu is inspired by Eastern Asia flavors that many may find familiar in our area. Some of the menu items are Beng Beng Chicken, po-boys, wings with various tasty flavors, seafood baskets, egg rolls, fried pickles and other favorites. But one of the menu items, Teriyaki Chicken, reminds me of our favorite mall food spots. In the photo below, you will see what I am talking about and you probably know the restaurant. This particular restaurant cooks their main dishes right in front of you, kind of like hibachi, but without the onion choo choo–you know what I am talking about. I know that I'm on a tangent, but I LOVE TANGENTS. We love to listen to folks in the famous mall food restaurant line ask for more 'gravy', like you know it's teriyaki sauce, right?
Back to Corner Seafood & Wings, this place looks yummy, like how a Sophi P's cupcake looks all cool and fresh in their coolers, MmMmmm. It appears that Corner Seafood will have online ordering on their website too, so that is cool, but they might as well just get on Waitr.
Check out their menu at cornerseafoodandwings.com/order-online and like them on facebook.
Also, see below for photos of the restaurant and of the menu items from their menu.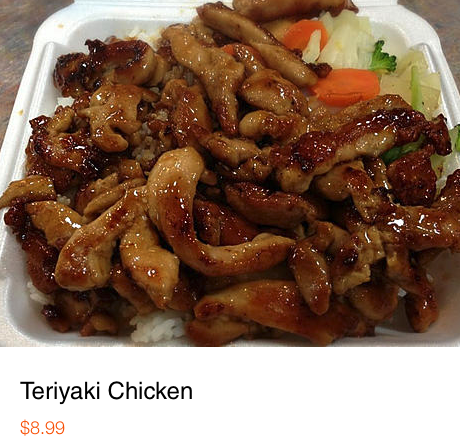 See, now you probably know what place in the mall I am talking about. And if not, then fine, you can just be jealous that I know about this place and you don't! 🙂