ALDI, a popular discount supermarket with an interesting relation to Trader Joe's, is coming soon to Lafayette, LA at 3100 Ambassador Caffery Parkway—across from Walmart Supercenter.
Known for their cost-effective approach to makin' groceries, ALDI focuses on their own exclusive private-label brands carrying only a few select national brands. This, along with many other company operational savings, helps the customer save up to an average of 50% on weekly "must-haves". At ALDI, you will not find plastic bags. In fact, you'll need to purchase a reusable, long-lasting ALDI branded bag. Also, your grocery cart—aka your buggy—requires a 25 cent deposit. This small deposit helps ALDI save on extra staff costs needed to retrieve carts after their use. And don't worry, if you bring that cart back, you get your 25 cents back! It's a win-win.
When it comes to ALDI's own private-label brands, they back up their quality with the 'twice as nice' guarantee. Don't like what you bought? No worries. They'll give you your money back and replace the item.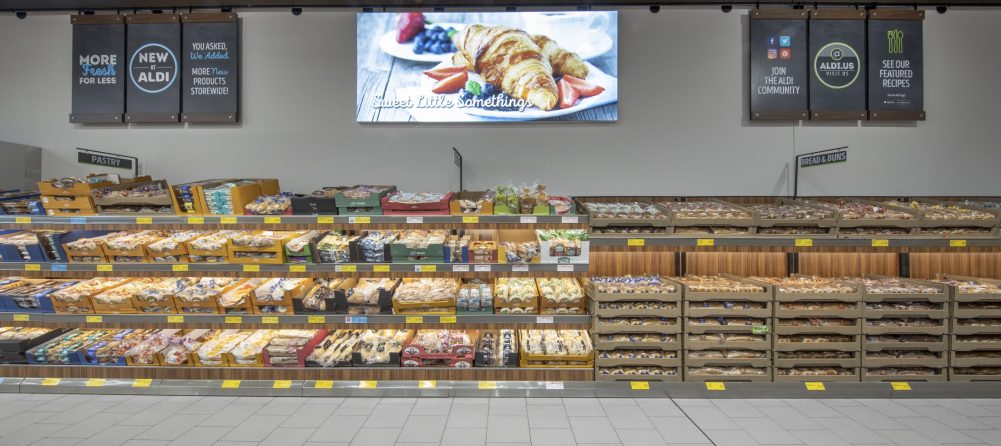 Headquartered in Germany, ALDI operates more than 1,900 stores in the US and an estimated 11,234 locations globally.
Perhaps one of the most interesting things about ALDI is its company duality. If you do a little googling, you'll find that ALDI operates as both ALDI Nord and ALDI Süd. This split happened in the 1960s for reasons we will leave for you to research for yourself. However, this split brought about a popular US store by the name of Trader Joe's. Due to their duality, ALDI Nord operates as ALDI in Belgium, the Netherlands, Luxembourg, France, Poland, Spain, Denmark, and Portugal, and operates in the US as Trader Joe's. On the other hand, ALDI Süd operates as ALDI in the US, along with other countries. All of this information can be found at https://en.wikipedia.org/wiki/Aldi.
According to the FAQ's on Trader Joe's website, "Trader Joe's is owned by families that also own part of Aldi Nord. Trader Joe's and Aldi Nord operate independently. Trader Joe's has no business or ownership relationship with Aldi Sud (including Aldi U.S.)." While there are differences between the two entities, there are some clear similarities.
As long as everything goes according to plan, ALDI in Lafayette may start construction this year! Perhaps 2020 will end on a higher note after all. If you would like to know our source for information leading to this post, you're out of luck. We are not pulling a 6ix9ine here.
All photos in this post are courtesy of ALDI's Corporate Media Data on their website.