A proposed Small Cell 5G facility for AT&T is planned for the corner of 105 Republic Avenue in Lafayette, LA. This is not related to the dirt work at this corner—more on that coming soon, promise.
According to public records, there are already about 10 – 5G Small Cell nodes installed in Lafayette with about 134 proposed nodes planned for future installation for AT&T Wireless. There are no records for any nodes by Verizon, Sprint or any other carrier.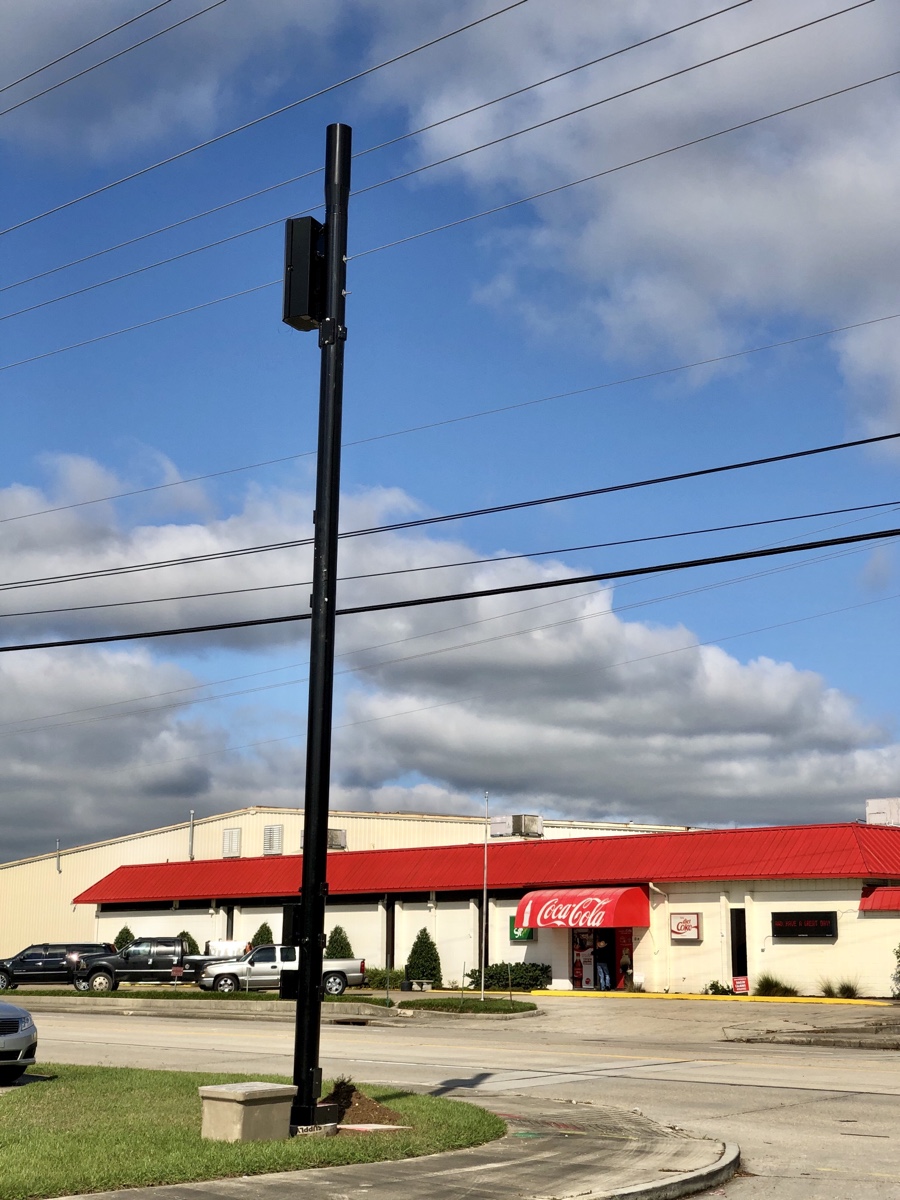 "Inactive" 5G node installed at 1301 Eraste Landry, across from Coke.
We reached out to AT&T for expanded knowledge of the nodes in Lafayette. Their responses—while appreciated—were vague. Though, they did tell us, "We currently do not have any active nodes in Lafayette." AT&T also stated, "This is not 5G." However, we personally believe these to be 5G nodes, according to our research of the pole height, node style, and strategic placement in the city's more dense areas.
It is most likely the pathway to 5G service in Lafayette with a short term use of relieving network congestion on the current 4G network.
So what the heck is 5G?!
If you are not familiar with 5G small cell technology, it's the evolution of the cellular data network for today's connected devices. Remember 2G, 3G, then 4G LTE?
Compared to its slower siblings, 5G is extremely quick. While 4G LTE is fast, with a download speed of about 50 Mbps, 5G technology is capable of speeds at 1.5 Gbps – 3 Gbps—about 30 times faster than your best LTE connection. However, due to the wavelength size of 5G, small cells (nodes) have to be strategically placed throughout a metropolitan area to achieve consistency in speeds by creating sort of a mesh network. Many of the nodes are placed on street light poles, power line poles, and other applications that yield some sort of urban camouflaging to be less noticeable.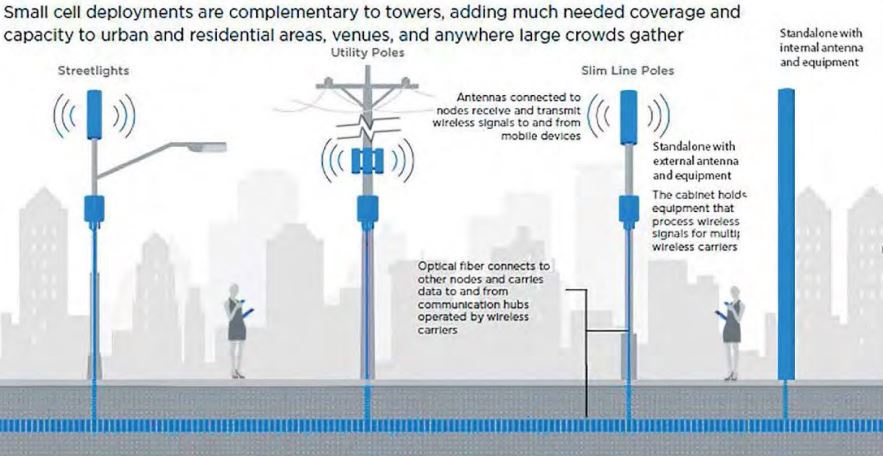 Image illustration of small cells (nodes)
One of the major benefits of 5G Small Cell technology is extremely low latency. Latency is the measure of time it takes a data packet to reach its destination. This is especially useful as medical technology advances to the point that surgery can be performed while the patient and surgeon are in completely different geographical locations. You wouldn't want a laggy data connection during your surgery, just saying. Just ask a gamer about the importance of latency—it's all about response time.
While the medical industry would be a great beneficiary of 5G — gaming, virtual reality, military, and many other industries will also advance greatly from the emerging technology.
As fancy as 5G sounds, we are still a few short years away before we may see any of the really exciting uses for 5G. For the average consumer, if you actually get to experience true 5G speeds, your uses for it may be minimal—except for consuming 30-40 times the data, which will cause you to reach your limited and even some unlimited plans data resources.
The video below also provides some information about 5G.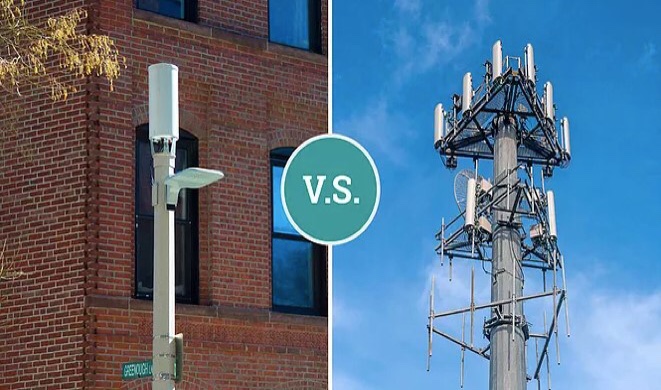 Left: 5G Small Cell (Node). Right: Macro Cell Tower. Source: suisun.com.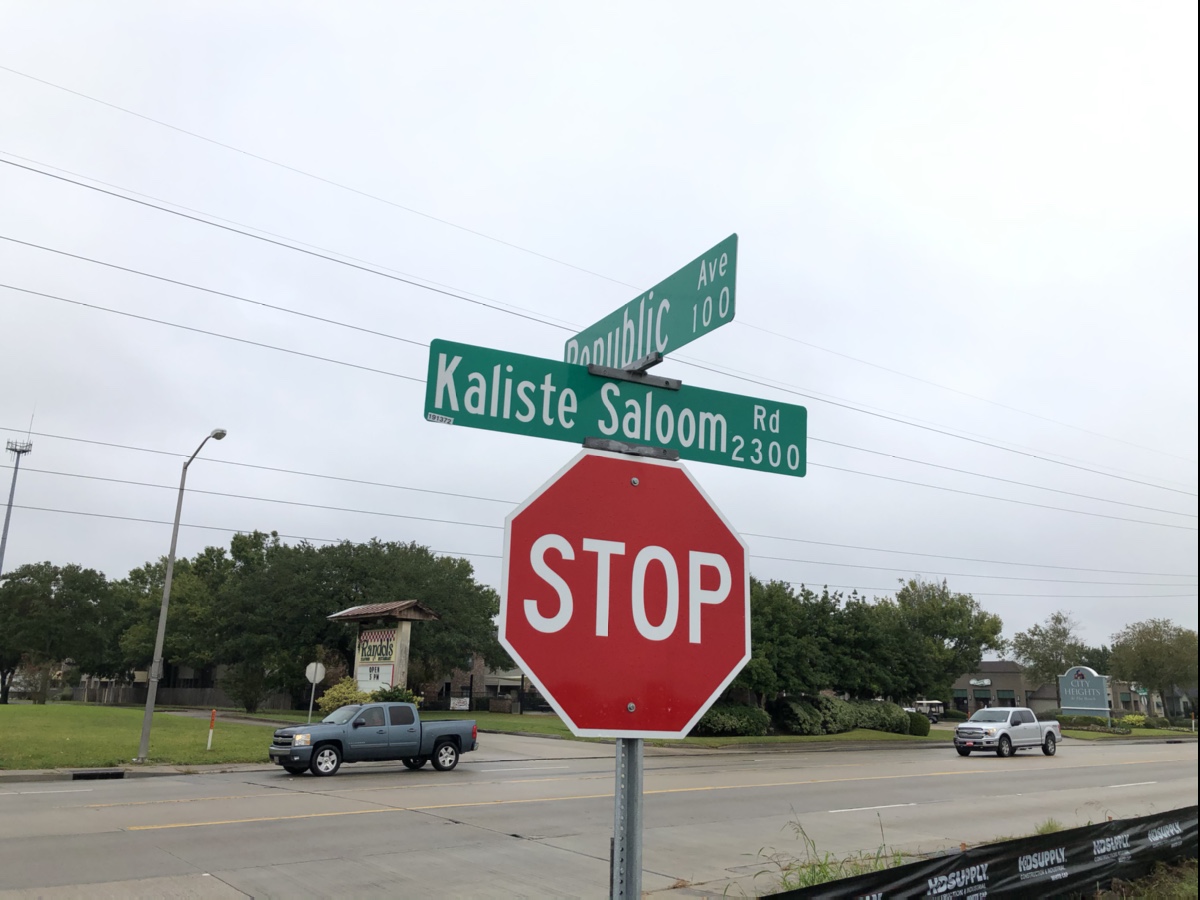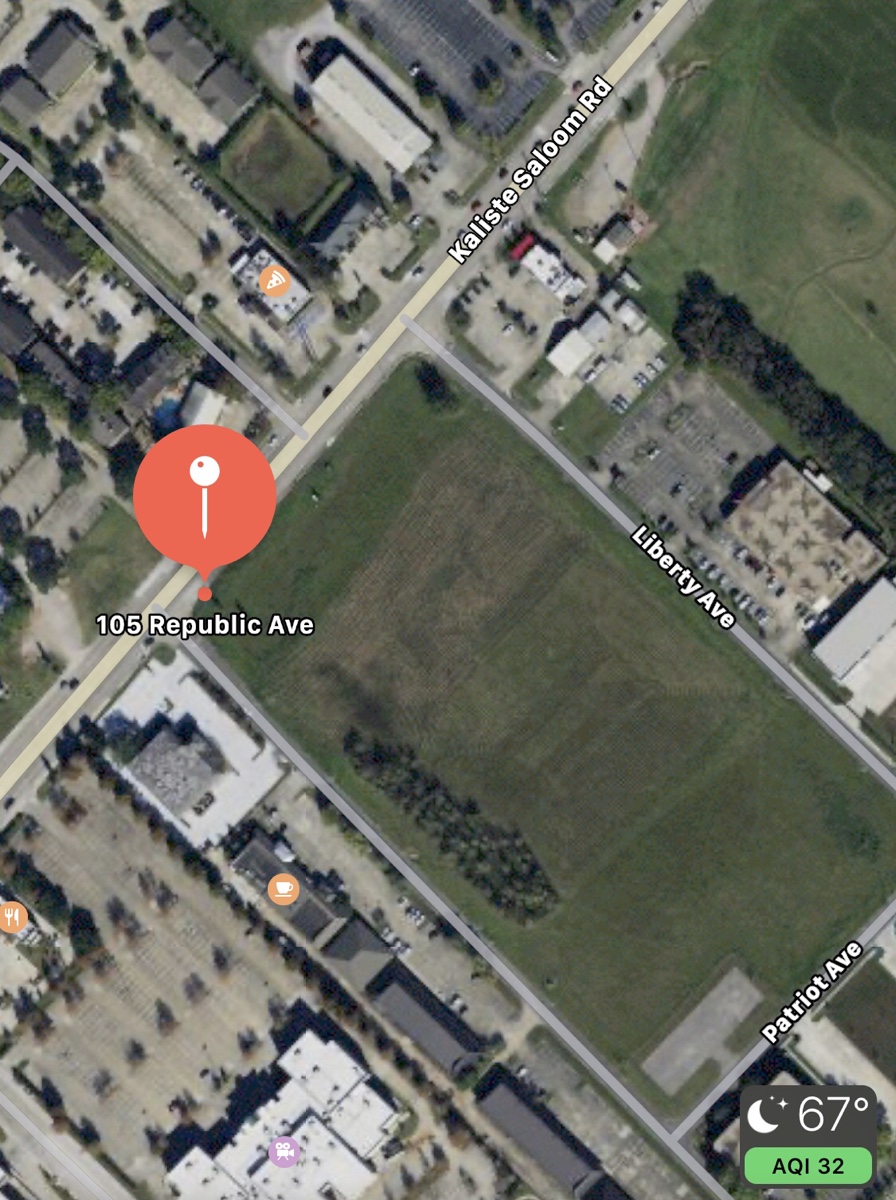 Feature image courtesy of pcworld.com.